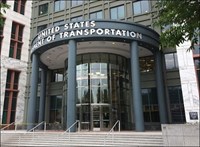 The Senate Commerce, Science and Transportation Committee said it will hold a nomination hearing March 29 for Jeffrey Rosen, President Trump's nominee to become deputy secretary of transportation.
That would make him the second-ranking official at the U.S. Department of Transportation, after Secretary Elaine Chao. The committee said it will begin the hearing at 2:30 p.m. eastern time that day.
Rosen, a partner in the Kirkland and Ellis law firm in Washington, D.C., was the USDOT's general counsel during 2003 to 2006. His law firm biography said he oversaw 400 lawyers for the department and its agencies, had responsibility for the DOT's regulatory program, enforcement and litigation activities, plus legal issues relating to international activities involving transportation and legislative proposals.
He also acted as counsel to then-Secretary Norman Mineta, served on the department's credit council that was responsible for four federal loan programs and was the government's representative on the Amtrak board of directors.
After leaving the USDOT, from 2006 to 2009 he was general counsel and senior policy adviser for the White House Office of Management and Budget.
In his nomination questionnaire, Rosen told the committee he sees the USDOT's top responsibilities to be "safety and safety regulation, infrastructure programs and funding, and operation of the air traffic control system (and some other operational activities)." He added that "there are policy and fiscal challenges related to all of these."
About The American Association of State Highway & Transportation Officials (AASHTO)
AASHTO is a nonprofit, nonpartisan association representing highway and transportation departments in the 50 states, the District of Columbia, and Puerto Rico. It represents all five transportation modes: air, highways, public transportation, rail, and water. Its primary goal is to foster the development, operation, and maintenance of an integrated national transportation system.
AASHTO works to educate the public and key decision makers about the critical role that transportation plays in securing a good quality of life and sound economy for our nation. AASHTO serves as a liaison between state departments of transportation and the Federal government. AASHTO is an international leader in setting technical standards for all phases of highway system development. Standards are issued for design, construction of highways and bridges, materials, and many other technical areas.
AASHTO serves as a catalyst for excellence in transportation by offering:
Smart solutions and promising practices;
Critical information, training and data;
Direct technical assistance to states; and
Unchallenged expertise