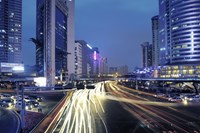 The Federal Transit Administration is taking applications through July 5 from state departments of transportation, transit agencies and others for funding out of an $8 million grant pool of "projects that demonstrate innovative approaches to mobility issues in public transportation."
The FTA is calling the program its "Mobility on Demand Sandbox," and said it will support research and technology deployments that improve public transportation efficiency and effectiveness, while enhancing safety and connectivity in America's transportation system.
It said the type of projects that MOD Sandbox will support could include smartphone apps, innovative fare payment and finance mechanisms, connected vehicles and infrastructure, shared-use and on-demand services and a broad range of other mobility solutions.
"Innovation is driving our world forward, and we want public transportation providers to seize opportunities to embrace new ideas and solutions," said U.S. Transportation Secretary Anthony Foxx. "Technology is a powerful tool for bringing people together like never before – to connect communities in ways that build and increase opportunity."
This program, the FTA said, is part of a larger mobility-on-demand federal research effort to support transit agencies and communities as they assist personal mobility. Such projects, it said, "help make transportation systems more integrated, automated, and accessible, while offering better connections to both existing and future infrastructure and public and private transportation options."
About AASHTO
AASHTO is a nonprofit, nonpartisan association representing highway and transportation departments in the 50 states, the District of Columbia, and Puerto Rico. It represents all five transportation modes: air, highways, public transportation, rail, and water. Its primary goal is to foster the development, operation, and maintenance of an integrated national transportation system.
AASHTO works to educate the public and key decision makers about the critical role that transportation plays in securing a good quality of life and sound economy for our nation. AASHTO serves as a liaison between state departments of transportation and the Federal government. AASHTO is an international leader in setting technical standards for all phases of highway system development. Standards are issued for design, construction of highways and bridges, materials, and many other technical areas.
AASHTO serves as a catalyst for excellence in transportation by offering:
Smart solutions and promising practices;
Critical information, training and data;
Direct technical assistance to states; and
Unchallenged expertise