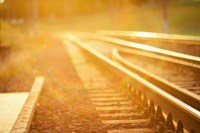 The Oregon Transportation Commission approved $49.5 million in funding for 39 non-highway multimodal projects around the state, from adding rail spurs in Elgin to improving moorage in Astoria, building a multiuse path in Milwaukie and supporting emergency power generators for two airports in Josephine County.
The largest single award of $8.3 million went to improve Portland-area passenger rail speeds.
The awards were part of the state's "ConnectOregon" program, which under the state Department of Transportation focuses on improving non-highway travel connections while supporting Oregon's economy. ConnectOregon was first approved by the Oregon legislature in 2005 and has funded more than 180 projects for marine, aviation, transit, bike/ped and rail infrastructure, using $382 million in funds generated by lottery-backed bonds.
Qualifying projects are eligible for grants that cover up to 70 percent of costs, while at least a 30 percent match is required from the grant recipient. But any projects that are eligible for funding from state fuel tax revenues are not eligible for ConnectOregon funding.
For this ConnectOregon VI round, ODOT said 75 applications were submitted seeking a total of $88.4 million. Modal and regional committees evaluated the requests before they went to a final review committee.
ConnectOregon includes grants for private-sector applicants, municipalities, cities, counties, governing organizations and other transportation-related entities.
Factors considered for applications include how a proposal would reduce transportation costs for Oregon businesses, bring economic benefit to the state, support critical links connecting transportation modes, and other factors including a project's useful life expectancy.
About The American Association of State Highway & Transportation Officials (AASHTO)
AASHTO is a nonprofit, nonpartisan association representing highway and transportation departments in the 50 states, the District of Columbia, and Puerto Rico. It represents all five transportation modes: air, highways, public transportation, rail, and water. Its primary goal is to foster the development, operation, and maintenance of an integrated national transportation system.
AASHTO works to educate the public and key decision makers about the critical role that transportation plays in securing a good quality of life and sound economy for our nation. AASHTO serves as a liaison between state departments of transportation and the Federal government. AASHTO is an international leader in setting technical standards for all phases of highway system development. Standards are issued for design, construction of highways and bridges, materials, and many other technical areas.
AASHTO serves as a catalyst for excellence in transportation by offering:
Smart solutions and promising practices;
Critical information, training and data;
Direct technical assistance to states; and
Unchallenged expertise
About The Oregon Department of Transportation
The Oregon Department of Transportation began life in 1913 when the Oregon Legislature created the Oregon Highway Commission to "get Oregon out of the mud." Today, the Oregon Department of Transportation works to provide a safe, efficient transportation system that supports economic opportunity and livable communities for Oregonians. We develop programs related to Oregon's system of highways, roads, and bridges; railways; public transportation services; transportation safety programs; driver and vehicle licensing; and motor carrier regulation.