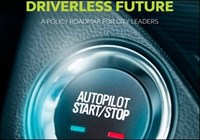 A new study by specialists in transportation, economics and urban planning estimates that millions of car owners in major U.S. cities may shed their personal vehicles over the next 15 to 20 years as ridesharing services deploy driverless vehicles that reduce trip costs.
That in turn could have major implications for state and local departments of transportation as they invest in and maintain infrastructure for what has been – up to now – rising traffic volumes. It could also disrupt conventional public transit ridership as well as urban staples such as taxis.
However, the various impacts are not clear, the writers said, as on the one hand vehicle miles traveled may keep growing because of the enhanced mobility that autonomous vehicles or AVs provide.
But with the right public policies the changes could also reduce roadway congestion by reducing vehicle totals, along with the need for as much parking space and support infrastructure such as fueling and repair facilities. Use of AVs would probably also cut into public revenues from traffic fines and parking fees.
The study, titled "Driverless Future: A Policy Roadmap for City Leaders," was prepared by Arcadis, HR&A Advisors and Sam Schwartz Consulting. It projected that the growth in popularity of ridesharing or ridesourcing services and a rapid introduction of low-cost cars that do not require drivers could shift as many as 3.6 million vehicles out of personal ownership just in the area that includes New York City plus Newark and Jersey City, N.J.
"The low price of using AVs will spur more people to change their transportation mode," it said, with sizable ripple effects. For instance, "if transit riders switch to private services, transit agencies will see a significant decrease in ticket revenues, which currently account for 30 percent to 50 percent of a typical agency's operating budget."
If that happened, it would also mean more people would be using AV services for car trips on roads, instead of riding buses, subways and other transit options. The writers said those possibilities would put more pressure on transit systems to offer competitive service, including their own driverless shuttles for first- and last-mile connections to normal bus or rail routes.
It may also require authorities to look at how they price access to roadways, the study said. "This can be done through a combination of proven policy tools such as congestion pricing, zone pricing, variable tolls and vehicle miles traveled fee," it said.
About The American Association of State Highway & Transportation Officials (AASHTO)
AASHTO is a nonprofit, nonpartisan association representing highway and transportation departments in the 50 states, the District of Columbia, and Puerto Rico. It represents all five transportation modes: air, highways, public transportation, rail, and water. Its primary goal is to foster the development, operation, and maintenance of an integrated national transportation system.
AASHTO works to educate the public and key decision makers about the critical role that transportation plays in securing a good quality of life and sound economy for our nation. AASHTO serves as a liaison between state departments of transportation and the Federal government. AASHTO is an international leader in setting technical standards for all phases of highway system development. Standards are issued for design, construction of highways and bridges, materials, and many other technical areas.
AASHTO serves as a catalyst for excellence in transportation by offering:
Smart solutions and promising practices;
Critical information, training and data;
Direct technical assistance to states; and
Unchallenged expertise