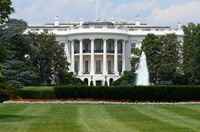 Speculation about the contents and timing of a new federal infrastructure package continued in Washington, with President Donald Trump telling the New York Times that he believes he can work with Democrats to get a bill passed sooner than later.
"We want to do a great infrastructure plan, and on that side I will say that we're going to have, I believe, tremendous Democratic support," President Trump told the Times in an exclusive interview published April 5. "We are also going to have some good Republican support, and I think it's going to be one of the very bipartisan bills and it's going to happen."
Trump also said that the bipartisan support for an infrastructure bill could result in the Administration advancing the bill by pairing it with either health care or tax reform.
When asked about the size of an infrastructure package, Trump reiterated his plan for a trillion-dollar investment.
"We may take that trillion, and we may also in addition use public/private. But we're talking about an investment of a trillion dollars," Trump told the Times.
Meanwhile, House Transportation and Infrastructure Chairman Bill Schuster, R-Penn., said during a Highways and Transit subcommittee hearing this week that Transportation Secretary Elaine Chao on April 5 briefed about 45 Republican House members on the outline of the Administration's plan. Shuster said that the Administration's plan includes some new funding and that public-private partnerships "is a tool in the toolbox, but it's not the toolbox," adding that Congress will need to figure out ways to leverage private dollars for transportation investments.
However, comments recently made by Chao suggesting that transportation investments need increased project streamlining came under sharp critique in a letter from House T&I Ranking Member Peter DeFazio, D-Oregon, and Highways and Transit Subcommittee Ranking Member Eleanor Holmes Norton, D-District of Columbia.
During a recent ceremony marking the 50th anniversary of the U.S. Department of Transportation, Chao reportedly said, "The problem is not money. It's the delays caused by government permitting processes that hold up projects for years, even decades, making them risky investments."
"More and more streamlining is not the answer to our infrastructure crisis nor the principle roadblock," the DeFazio/Holmes Norton letter said.
About The American Association of State Highway & Transportation Officials (AASHTO)
AASHTO is a nonprofit, nonpartisan association representing highway and transportation departments in the 50 states, the District of Columbia, and Puerto Rico. It represents all five transportation modes: air, highways, public transportation, rail, and water. Its primary goal is to foster the development, operation, and maintenance of an integrated national transportation system.
AASHTO works to educate the public and key decision makers about the critical role that transportation plays in securing a good quality of life and sound economy for our nation. AASHTO serves as a liaison between state departments of transportation and the Federal government. AASHTO is an international leader in setting technical standards for all phases of highway system development. Standards are issued for design, construction of highways and bridges, materials, and many other technical areas.
AASHTO serves as a catalyst for excellence in transportation by offering:
Smart solutions and promising practices;
Critical information, training and data;
Direct technical assistance to states; and
Unchallenged expertise