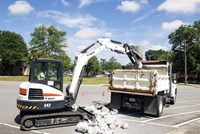 On June 8, the U.S. Department of Transportation released more than $1.5 billion in grants to fund what it calls "critical freight, highway, and bridge improvements" via the Infrastructure for Rebuilding America or "INFRA" program created by the Fixing America's Surface Transportation (FAST) Act of 2015.
As required by the FAST Act, US DOT notified Congress on June 5 about the 26 projects selected to receive the $1.535 billion worth of grants via the INFRA program; triggering a mandatory 60-day congressional review period before the agency can, in fact, award them.
The INFRA program prioritizes freight-related highway projects, though some limited rail and port infrastructure is allowed as long as it reduces congestion on highways. The law specified that 10 percent of the funds be available for small project valued at $5 million or more, while large projects must be at least $25 million. Furthermore, at least 25 percent of the overall funding must go to rural projects.
The $1.535 billion in INFRA grants also combines two years' worth of funding, for fiscal years 2017 and 2018, less $79 million already given out for small projects from the fiscal year 2017 monies.
Some 18 out of the 26 projects selected by US DOT for those INFRA grants are under the auspices of state departments of transportation; projects that combined roughly total more than $1.1 billion out of the over $1.5 billion worth of available funding.
The largest of the proposed INFRA grants are slated for state DOTs in this round of funding, according the US DOT's project list:
More than $184 million to the Georgia DOT for its SB 400 Express lane project.
About $160 million to the Wisconsin DOT for its 94 North-South Freeway project.
More than $147 million to the N.C. DOT for its I-95/U.S. 70 innovative technology and rural mobility corridor improvements.
More than $130 million to the Illinois DOT for its 75th Street Corridor Improvements and Argo Connections.
About AASHTO

AASHTO is a nonprofit, nonpartisan association representing highway and transportation departments in the 50 states, the District of Columbia, and Puerto Rico. It represents all five transportation modes: air, highways, public transportation, rail, and water. Its primary goal is to foster the development, operation, and maintenance of an integrated national transportation system. AASHTO works to educate the public and key decision makers about the critical role that transportation plays in securing a good quality of life and sound economy for our nation. AASHTO serves as a liaison between state departments of transportation and the Federal government. AASHTO is an international leader in setting technical standards for all phases of highway system development. Standards are issued for design, construction of highways and bridges, materials, and many other technical areas.