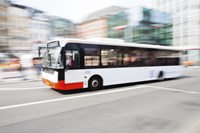 The public transportation industry is an industry committed to using environmentally-friendly technologies and practices. Every year, 37 million metric tons of carbon emissions and 4.2 billion gallons of gasoline are saved due to public transportation use in the United States.
The American Public Transportation Association (APTA) has a Sustainability Commitment program for both public transit agencies and businesses. Currently, 133 public transit organizataions voluntarily participate in the APTA Sustainability Commitment program, which started in 2009. Participating organizations are commited to implementing processes and taking actions that create continuous improvements in environmental, social, and economic sustainability. Depending on the level of accomplishments, organizations are presented Platinum, Gold, Silver, and Bronze Level certifications.
"APTA's Sustainability Commitment program demonstrates that the public transportation industry is a green industry incorporating green, sustainable practices," said Valarie J. McCall, APTA Chair and board member of the Greater Cleveland Regional Transit Authority. "These sustainable practices not only reduce an organization's environmental impact, but are good for business, too."
Noting public transportant is an industry that impacts local communities and their quality of life, APTA President and CEO Michael Melaniphy said, "Environmentally-friendly technologies are increasingly being implemented at public transit systems and businesses. One striking example of how public transit is leading the way is that almost half of all U.S. transit buses use alternative fuels or hybrid technology. However, the focus on sustainable practices extends beyond environmentally-friendly buses and includes other practices such as LEED certified buildings, solar arrays, and water reclamation."
APTA's latest research shows that 46.9 percent of U.S. public transportation buses were using alternative fuels or hybrid technology as of January 1, 2015. This is in striking contrast to the 2.5 percent of automobiles using alternative-fuels in 2014 (the most recent year that data is available). If you add in flex-fuel automobiles, the percent for automobiles is 4.8 percent, according to the Energy Information Administration's (EIA) Annual Outlook.
APTA statistics for 2015 show that 22.3 percent of U.S. public transit buses report using compressed natural gas (CNG), liquefied natural gas (LNG) and blends. Hybrid buses comprise 16.7 percent of U.S. transit buses, while biodiesel public transit buses account for 7.4 percent. Other alternative fuels, such as propane and hydrogen, account for 0.3 percent.
About APTA
The American Public Transportation Association (APTA) is a nonprofit international association of 1,500 public and private sector organizations, engaged in the areas of bus, paratransit, light rail, commuter rail, subways, waterborne services, and intercity and high-speed passenger rail. This includes: transit systems; planning, design, construction, and finance firms; product and service providers; academic institutions; transit associations and state departments of transportation. APTA is the only association in North America that represents all modes of public transportation. APTA members serve the public interest by providing safe, efficient and economical transit services and products. More than 90 percent of the people using public transportation in the United States and Canada ride APTA member systems.