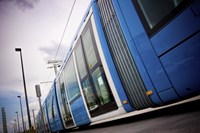 As the Presidential and Congressional races enter the final three months of campaigning, the American Public Transportation Association (APTA) in conjunction with the Mineta Transportation Institute (MTI), released the results of a recent poll which underscores the public's support for expanded access to public transportation. Its analysis shows that more than 73 percent of Americans support using tax dollars to create, expand and improve public transportation in their communities. Slightly less (nearly 73 percent) believe Congress should increase the level of federal spending on public transportation infrastructure. The survey reflects a continuation of a multi-year trend where nearly three-quarters of Americans consistently support increased investment in public transportation.
"Both of the presidential candidates are talking about the need for infrastructure investment to meet a growing demand from the public," said APTA Chair Valarie J. McCall. "This poll shows that American voters understand that an investment in public transit is a vital part of our national infrastructure."
APTA noted that the candidates are focusing on infrastructure investment, including public transportation, because it significantly impacts the middle class both in providing jobs and creating access to jobs. For instance, every $1 billion invested in public transit creates more than 50,000 jobs. In addition, every dollar invested in public transportation generates $4 in economic returns.
"We appreciate that the candidates have acknowledged the important need for public transit infrastructure investment," said Richard A. White, APTA Acting President and CEO. "Congress and the Administration took a good first step last December as they authorized long-term surface transportation investment that included public transit. However, we must address the public transit industry's $86 billion backlog of state of good repair needs. In addition, it is essential we continue to expand public transportation because a robust system creates jobs and helps our communities grow."
APTA leaders say this strong public support could also bode well when Americans go to the polls on November 8 and have the opportunity to vote to boost public transit funding through 27 state and local ballot initiatives across the country. This could result in nearly 200 billion dollars in new investment for public transportation.
The Mineta Institute and APTA survey also highlights the public's support for the value public transportation adds to communities across the country:
Nearly 82 percent agreed that public transportation provides an affordable way for people to get around.
84 percent of the respondents said public transportation provides people with vital connections to important resources like jobs, schools, and medical facilities.
Roughly 80 percent said that public transportation connects people to jobs, and thus helps to fuel economic growth and development.
67 percent of those surveyed stated that public transportation creates a cleaner environment and reduces carbon emissions.
"As a nation, we have neglected our public transportation infrastructure for decades and many public transit systems are playing catch up," said White. "The time has come for strong decisive action. We must address the industry's tremendous maintenance backlog. There is a need to invest $43 billion a year as opposed to the $17 billion we currently receive to expand, improve and upkeep our public transit infrastructure. This strong investment will be crucial as we address the projected explosion of population growth in our cities and suburbs. We look forward to working with the Administration, Congress and local elected leaders to tackle the chronic underfunding of investment in our nation's crumbling transportation infrastructure."
MTI conducted 1,503 telephone interviews with individuals across the United States. The margin of error for the total sample is ± 2.53 percentage points, at the 95% confidence level. Smaller subgroups will have larger margins of error.
About The American Public Transportation Association (APTA)
The American Public Transportation Association (APTA) is a nonprofit international association of 1,500 public and private sector organizations, engaged in the areas of bus, paratransit, light rail, commuter rail, subways, waterborne services, and intercity and high-speed passenger rail. This includes: transit systems; planning, design, construction, and finance firms; product and service providers; academic institutions; transit associations and state departments of transportation. APTA is the only association in North America that represents all modes of public transportation. APTA members serve the public interest by providing safe, efficient and economical transit services and products. More than 90 percent of the people using public transportation in the United States and Canada ride APTA member systems.