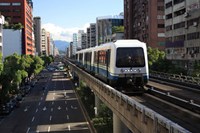 The American Public Transportation Association (APTA) recognized six organizations today for their outstanding achievements in sustainability. Public transit agencies and businesses voluntarily participate in the APTA Sustainability Commitment program and pledge to implement processes and actions that create continuous improvements in environmental, social, and economic sustainability. Based on specific measurable achievements, organizations are given Platinum, Gold, Silver, and Bronze Level recognition.
The two public transit systems receiving Gold Level recognition are Ann Arbor Area Transportation Authority (Ann Arbor, MI) and Santa Clara Valley Transportation Authority (San Jose, CA). The two Silver Level recipients are San Francisco Bay Area Rapid Transit (Oakland, CA) and Santa Monica's Big Blue Bus (Santa Monica, CA), and the two Bronze Level recipients are Pinellas Suncoast Transit Authority (St. Petersburg, FL) and Southwest Ohio Regional Transit Authority (Cincinnati, OH).
First started in 2009, 133 public transit agencies and businesses have signed on to the APTA Sustainability Commitment. Currently, 38 signatories have received recognition.
"Sustainability is not only good for the environment but also makes good business sense," said Richard A. White, American Public Transportation Association Acting President and CEO. "Congratulations to these six public transportation systems for being leaders in sustainability. They are making their communities more sustainable and serving as models for the public transit industry."
Below are some examples of the sustainable accomplishments that this year's recipients have achieved.
GOLD Level – Ann Arbor Area Transportation Authority (The Ride) – Ann Arbor, Michigan
TheRide reduced its water usage by 43 percent over the last five years, in part, by using graywater instead of fresh, potable water in its bus washer. In addition, electricity usage was reduced by 18 percent. Through continued investment in upgrading its bus fleet to include 60 percent electric hybrid buses, TheRide also realized reductions in criteria air pollutants by one-third and cut fuel consumption by 15 percent. In 2014, TheRide rebuilt its Blake Transit Center to LEED Gold for BD+C standards featuring a snowmelt system to reduce the use of salt during the winter months and graywater collection for use in the facility's non-potable water needs in the facility. Additionally, TheRide has increased bus services and collaborated extensively with numerous partners in the greater Ann Arbor and Ypsilanti community, including the University of Michigan, to encourage greater public transit use and improve first/last mile connections to public transit stations.
GOLD Level – Santa Clara Valley Transportation Authority (VTA) – San Jose, California
VTA reduced water usage by nearly 39 percent compared to the 2008 baseline year through an increase in drought-resistant landscaping, recycled water for bus washing, reduced irrigation levels, and an overall retrofit to its irrigation equipment and plumbing fixtures. Compared to 2008, the agency realized an impressive 57 percent reduction in waste production and a 27 percent increase in recycling rates, in part, through composting at one of its cafeterias and an expansion of its recycling program. VTA also installed numerous on-site solar panels at various facilities and participated in a residential solar group share program for its employees. VTA was a founding signatory of the APTA Sustainability Commitment in 2009.
SILVER Level – San Francisco Bay Area Rapid Transit (BART) – Oakland, California
BART is committed to using more renewable power. BART has installed solar photo voltaic systems at two of its maintenance shops (250 and 267 kW) and at the Union City station bus canopy (150 kW) and has plans for more throughout the system. The agency has also reduced electricity demand by implementing lighting retrofits at its facilities. The agency is committed to transit-oriented development and is engaged in a total of 18 development projects with eight completed and many others under development. In response to stormwater quality issues, BART is incorporating bioretention areas at stations and parking lots to capture and treat runoff. The agency extensively promotes riding BART and provides a carbon calculator for riders to estimate the greenhouse gas savings realized by riding BART over driving. BART was a founding signatory of the APTA Sustainability Commitment in 2009.
SILVER Level – Santa Monica's Big Blue Bus – Santa Monica, California
Big Blue Bus received Silver Level recognition this year for its commitment to greening its fleet through alternative fuel vehicles. In 2013, Big Blue Bus retired the last of its diesel vehicles from its fleet, and now uses Renewable Natural Gas (RNG), a bio-gas derived from harvested landfill methane, to fuel its natural gas fleet. Big Blue Bus also installed 70 kw of solar photovoltaics at its bus facility and incorporated solar power at many of its bus stops.
BRONZE Level – Pinellas Suncoast Transit Authority (PSTA) – St. Petersburg, Florida
PSTA upgraded its reporting system that tracks the agency's utilities and other key sustainability indicators on a monthly basis. The agency also expanded its transportation disadvantaged program to help reduce the cost of transportation for low income residents in Pinellas County, increasing participation from 2000 to 5800 riders per month. PSTA was a founding signatory of the APTA Sustainability Commitment in 2009.
BRONZE Level – Southweste Ohio Regional Transit Authority (SORTA) – Cincinnati, Ohio
SORTA has initiated audits of solid waste and energy at its facilities. The agency is pursuing investments to bale cardboard that saves the agency money through fewer recycling pick-ups while generating income from bale sales. As a result of its extensive recycling program, employees diverted 47,600 pounds of waste from the landfill in just eight months. The agency has plans to install LED lighting upgrades at two facilities. SORTA also engages employees around sustainability through its employee orientation program and quarterly outreach events.
About The American Public Transportation Association (APTA)
The American Public Transportation Association (APTA) is a nonprofit international association of 1,500 public and private sector organizations, engaged in the areas of bus, paratransit, light rail, commuter rail, subways, waterborne services, and intercity and high-speed passenger rail. This includes: transit systems; planning, design, construction, and finance firms; product and service providers; academic institutions; transit associations and state departments of transportation. APTA is the only association in North America that represents all modes of public transportation. APTA members serve the public interest by providing safe, efficient and economical transit services and products. More than 90 percent of the people using public transportation in the United States and Canada ride APTA member systems.