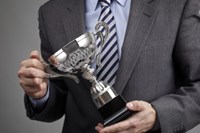 The American Public Transportation Association (APTA) recognized eight of its member organizations for continued achievements in sustainability. Public transit agencies and businesses voluntarily choose to join the APTA Sustainability Commitment program and pledge to implement processes and actions that create continuous improvements in environmental, social, and economic sustainability. Based on specific measurable achievements, organizations are given Platinum, Gold, Silver, and Bronze Level recognition.
Amtrak (Washington, DC) and the TRC Companies (Lowell, MA) are this year's recipients of Gold Level recognition. The four Silver Level recipients are Jacksonville Transportation Authority (Jacksonville, FL), Regional Transportation Commission of Washoe County (Reno, NV), HDR (Omaha, NE), and Louis Berger (Washington, DC). The two Bronze Level recipients are Transit Authority of River City (Louisville, KY) and Wendel (Williamsville, NY).
First started in 2009, 133 public transit agencies and businesses have signed on to the APTA Sustainability Commitment. Currently, 38 signatories have received recognition.
"Saving our environment while using new and sustainable business practices, sets public transportation up for a bright future," said Richard White, APTA Acting President and CEO. "Congratulations to these eight public transportation leaders who are on the leading edge of sustainability advances. The blueprint they are creating will be used by many in the future."
Below are some examples of the sustainable accomplishments that this year's recipients have achieved.
GOLD Level – Amtrak – Washington, District of Columbia
Amtrak realized reductions in electrical consumption at facilities through energy efficiency lighting projects, automated building controls and facility-based energy plans. Sustainability initiatives include adopting green building codes and standards such as the International Green Construction Code (IgCC) and obtaining LEED certifications for stations. The corporation implemented a Waste Minimization Pilot Program at one of its facilities that will help Amtrak replicate findings across all facilities towards a waste reduction goal of 20% by 2020. Amtrak has expanded connectivity options for customers to travel to and from the stations on their bikes with equipment upgrades on a growing number of services. Amtrak was a founding signatory of the APTA Sustainability Commitment in 2009 and received Bronze Level recognition in 2013.
GOLD Level – TRC Companies – Lowell, Massachusetts
TRC advanced to Gold Level recognition. Against baselines set in 2014, TRC achieved a 16% reduction in electricity usage per employee; 2% reduction in natural gas usage per employee; 9% reduction in Scope 1 and 2 emissions, per employee; 19% reduction in paper usage from FY15 to FY16, per dollar of revenue; and 95% of offices recycling at least one waste stream.
The company implemented a Health and Safety Management System aligned with OHSAS 18001; a corporate-wide Sustainability Coordinator Network; and a corporate-wide community engagement initiative centered on Earth Day. Additionally, TRC's services to the public transit industry have reduced greenhouse gases, minimized water use, developed green construction policies, advanced environmental management systems, and identified innovative energy efficiency opportunities.
SILVER Level – Jacksonville Transportation Authority (JTA) – Jacksonville, Florida
JTA invested significantly in LED lighting at its facilities, helping the agency realize significant reductions of energy use by 13.4% at facilities. The agency also has installed bioremediating parts washers to detoxify runoff prior to disposal, helping protect the sensitive ecosystem surrounding the city. Additionally, the agency installed electric vehicle charging stations inside its public parking garages, helping encourage greater shifts regionally to more sustainable modes of transportation.
SILVER Level – Regional Transportation Commission (RTC) of Washoe County – Reno, Nevada
RTC Washoe has worked extensively to improve the overall sustainability of the agency through a variety of initiatives. In 2014, the RTC replaced four older model diesel buses with fully electric model buses and has plans to add up to 15 more in the coming years. RTC also constructed two LEED certified major transit stations in downtown Reno & Sparks, NV which include low-flow water infrastructure, energy efficient lighting, and a solar PV array. Additionally, the RTC is continuing to work to retrofit existing buildings with more energy efficient LED lighting, solar arrays, and low-flow water fixtures. The combination of all RTC efforts resulted in a 32.3% reduction in facility energy use per Unlinked Passenger Trip from 2010 to 2016. RTC has demonstrated their commitment to sustainability that will benefit agency operations and the community they serve.
SILVER Level – HDR – Omaha, Nebraska
The company, which has a comprehensive Sustainability Policy and Procedures document and a Waste Prevention and Recycling Standard, demonstrated adherence to APTA's core sustainability principles at the company's headquarters and North American office locations. With more than 750 sustainability professionals - 525 LEED Aps, 215 ENV SPs, 12 Greenroads STPs - HDR currently has 135 LEED certified projects, eight Envision projects, and one Greenroads pilot project in its portfolio. The organization has committed to achieving additional action items and reduction targets for HDR's carbon footprint and waste generation goals long-term including: increase Green Team engagement and percentage of employees who participate; continue to improve processes and resources for reducing waste through reuse, recycling, and composting; encourage alternative commuting – consider how to improve percentage of employees using alternative modes for work commute.
SILVER Level – Louis Berger – Washington, District of Columbia
The company recently adopted a Sustainability Vision and Policy that guides Louis Berger's commitment to fostering sustainability within its operations, work and communities. Louis Berger has enhanced its services with the certification of more than 130 Envision Sustainability Professionals (ENV SPs). Louis Berger regularly engages employees around sustainability through initiatives such as the Reduce Your Foodprint office competition, which challenged employees to take simple actions to reduce the impact of their food choices. The company also partnered with Direct Energy Solar to offer employees a discount on the purchase of a residential solar system.
BRONZE Level – Transit Authority of River City – Louisville, Kentucky
TARC received Bronze Level recognition. At Louisville's historic Union Station, TARC invested in significant energy efficiency improvements that resulted in a 35% reduction of energy consumption. It also built a LEED Gold-certified training center featuring a graywater system for non-potable uses, a green roof, and 4kW solar PV array on the facility. TARC collaborates with many organizational partners to provide free or greatly reduced transportation to employment and educational programs. The agency is the first in the mid-west to introduce electric battery bus technology to its community. TARC was a founding signatory of the APTA Sustainability Commitment in 2009 and was previously an Entry-level member.
BRONZE Level –Wendel – Williamsville, New York
Wendel received Bronze Level recognition. As part of Wendel's 2020 Strategic Plan, a Stewards of Environment leadership group has been established to help drive forward the company's sustainability goals. The company established metrics to measure environmental, social, and economic impacts for both internal operations as well as project development. Wendel has achieved a reduction in energy and water consumption, greenhouse gas emissions, and increased the percent of material being diverted from landfills. Additionally, through a collaborative process with the headquarter building's owner, Wendel achieved LEED certification for Commercial Interiors.
About The American Public Transportation Association
The American Public Transportation Association (APTA) is a nonprofit international association of 1,500 public and private sector organizations, engaged in the areas of bus, paratransit, light rail, commuter rail, subways, waterborne services, and intercity and high-speed passenger rail. This includes: transit systems; planning, design, construction, and finance firms; product and service providers; academic institutions; transit associations and state departments of transportation. APTA is the only association in North America that represents all modes of public transportation. APTA members serve the public interest by providing safe, efficient and economical transit services and products. More than 90 percent of the people using public transportation in the United States and Canada ride APTA member systems.