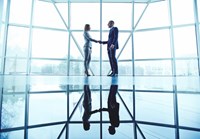 On Monday, 9th October, in Atlanta, 12,000 leaders from more than 75 countries converged at the world's largest showcase for the public transportation industry – the American Public Transportation Association's (APTA) EXPO. Public transit is a $66 billion industry that serves a progressively crucial role in ensuring America's economic competitiveness and brings together innovation and technology from more than 800 exhibitors in areas such as operations, maintenance, safety, security, emergency preparedness, and passenger comfort.
"Public transportation is the lifeblood of America," said Nathaniel P. Ford Sr., newly elected APTA Chair and CEO of the Jacksonville Transportation Authority (JTA). "As roads and highways become more congested and employment centers continue to spread across multiple counties, people see the value in multi-modal transportation options that are modern, safe and convenient. The innovations and cutting-edge technology at the Expo will help the industry enhance service and attract more riders."
Approximately 9 out of 10 public transit trips directly impact the economy, either providing job access or connecting people to retail and entertainment venues. For each $1 billion invested in public transportation, 50,000 jobs are supported and created. And, the value of this industry has never been more evident, with some employers citing access to public transit as a key factor in determining new locations for their businesses.
"Public transportation drives economic growth. Public transit attracts development, increases property values, and creates job access and opportunities in communities of all sizes," said Acting APTA President and CEO Richard A. White. "Long-term dedicated federal investment in public transportation is critical to our nation's future global competitiveness."
Advances in technology change the way people move and interact with cities, and exciting innovations are bringing about autonomous vehicles, continuous exchanges of information, safety improvements, and increased operational improvement. For example, the mobile applications quickly are increasing efficiency and being integrated to manage payments, track vehicle progress, and request services, especially driven by the demand from millennials for interconnected technologies. Meanwhile in a world frought with security concerns, software-enhanced surveillance systems with predictive analytics are coming online to analyze and identify suspicious activities and automatically relay information to control centers to keep travelers safer. Finally, technologies like positive train control (PTC) keep passengers and workers safer by separating trains, enforcing train speed limits, and controlling train movement in areas of track obstructions.
Public transportation provides a vital link between residents and their communities, offering both mobility and security in times of emergency and crisis. This includes conducting mass evacuations in threatened areas and transporting emergency personnel before, during, and after times of fires, floods, hurricanes, windstorms, winter storms, or even terrorist attacks. Some ways public transit offers relief from manmade or natural disasters include shielding riders from external dangers, providing shuttle services to utilities workers, replenishing supplies, and shuttling returning evacuees.
APTA's EXPO, hosted in Atlanta, offers the diverse public transportation industry the opportunity to showcase these and a wide-array of other technologies and practices that can greatly enhance the passenger experience, streamline system management, improve safety, and increase sustainability. For manufacturers and suppliers, the event is a one-stop shop to interact with transit agencies, policy makers, and regulators to preview and explore the future innovations.
About The American Public Transportation Association (APTA)
The American Public Transportation Association (APTA) is a nonprofit international association of 1,500 public and private sector organizations, engaged in the areas of bus, paratransit, light rail, commuter rail, subways, waterborne services, and intercity and high-speed passenger rail. This includes: transit systems; planning, design, construction, and finance firms; product and service providers; academic institutions; transit associations and state departments of transportation. APTA is the only association in North America that represents all modes of public transportation. APTA members serve the public interest by providing safe, efficient and economical transit services and products.