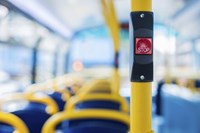 Public transit riders are part of the engine that powers America's economy, according to a new demographic study released by the American Public Transportation Association (APTA). The study Who Rides Public Transportation reveals that 87% of public transit trips directly impact the economy, either connecting people to employers needing workers and to retail and entertainment venues. The study, authored by the CJI Research Corporation, is the most extensive demographic report of public transit riders ever, with nearly 700,000 passenger surveys.
"The data is clear: Public transit riders' impact on the economy has grown tremendously over the last 10 years," said APTA Acting President and CEO Richard White. "In addition to the work commute, Americans are taking transit to shop, dine, and attend entertainment venues more than ever before. As the new Congress and Administration look to boost the economy, investing in America's public transportation infrastructure should be a key element of that plan."
One example of this economic impact, according to the data, is that the share of riders using public transit for shopping more than doubled from 2007 (8.5%) to 2017 (21%). APTA officials note that there is a long term trend of public transit riders having a greater impact on the economy while helping to sustain growth in local communities.
In fact, since 1995, public transit ridership has increased by 37% – a growth rate higher than the 20% increase in the U.S. population and higher than the 23% growth in the use of the nation's highways over the same period, according to APTA ridership data.
"These public transit trips impact communities of all sizes and a very diverse group of Americans ride public transit every day," said White. "The facts speak for themselves. Investing in public transit is the obvious choice to help grow the economy."
The Facts
Sixty-three percent of public transit riders use it at least five days a week, and 13% use it six or seven days a week. This is further evidence that commuting is the primary trip purpose for many users, but many also use public transit for shopping, dining and other activities that grow the economy.
Other important demographics highlighted in the study include:
Most public transit riders are people in the most economically active years of their lives, from 20 to 64 years of age, according to the study. This accounts for 89% of transit passengers.
Of all riders, 71% are employed, while 7% are students. Thus, more than three-fourths of transit riders (78%) are either currently employed or preparing for employment.
Most transit user households (77%) include one or more working persons.
More than 51% of public transit riders hold a bachelor's degree or higher level of education.
In fact, 21% of U.S. households that make at least $100,000 per year ride public transportation.
Public transit is a lifeline to many Americans. Thirteen percent of U.S. households have incomes of less than $15,000, but among transit-using households, the comparable figure is 21%.
The majority of public transit users are women (55%). This is true for both bus and rail users.
Public transit users are multi-modal. Sixty-five percent have a driver's license.
Twenty-one percent use public transit for shopping and 17% for recreational spending in the local economy.
For smaller communities under 200,000, more public transit riders (27%) use it for travel to school than in larger communities over 1 million (6%).
The Who Rides Public Transportation study is based on a total of 695,748 respondent questionnaires. The surveys included were conducted during eight years from 2008 through 2015. The public transit systems participating in the research carried 80% of the transit trips made in the U.S. during the study period. To read the study in its entirety go to www.apta.com/WhoRides.
About APTA
The American Public Transportation Association (APTA) is a nonprofit international association of more than 1,500 public and private sector organizations, engaged in the areas of bus, paratransit, light rail, commuter rail, subways, waterborne services, and intercity and high-speed passenger rail. This includes: transit systems; planning, design, construction, and finance firms; product and service providers; academic institutions; transit associations and state departments of transportation. APTA is the only association in North America that represents all modes of public transportation. APTA members serve the public interest by providing safe, efficient and economical transit services and products. More than 90 percent of the people using public transportation in the United States and Canada ride APTA member systems.