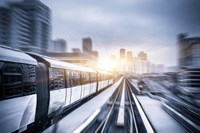 As the cornerstone of an economic blueprint, President Trump and Congress are proposing investing $1 trillion in America's infrastructure, including the nation's roads, rails and bridges. According to a new analysis by the American Public Transportation Association (APTA), a $200 billion portion of this investment in the nation's public transportation infrastructure, over a 10-year period, could create and sustain 10 million jobs across America. In addition, it could provide sustained economic growth by contributing $800 billion to the nation's Gross Domestic Product over a 20-year period.
"We have an opportunity to bring together a bi-partisan effort amongst Congress and the Administration to revitalize main street America with smart investments in local public transit," said APTA Chair Doran Barnes. "Public transit's role in getting people to work and bringing customers to businesses results in the far reaching economic impact of this investment. This coupled with our extensive supply chain provides for manufacturing jobs in small, mid-size and large communities."
The $200 billion figure in the APTA Infrastructure Analysis is based on three separate analyses as the association developed its recommendations for the Fixing America's Surface Transportation (FAST) Act. Association researchers took a look at what $200 billion of a $1 trillion investment flowing to the nation's public transportation infrastructure could do over a 10-year period.
Particularly for small and mid-size communities, this investment will garner the greatest impact. For instance, purchasing new buses and upgrading equipment and facilities will be a game changer for small and mid-size communities. Specifically, nearly 90 percent of public transit trips directly benefit the economy by getting people to work and connecting them to local businesses, according to a recent APTA demographics study.
"This additional investment is the key to addressing the nation's aging public transportation infrastructure," said APTA Acting President and CEO Richard White. "Data from the U.S. Department of Transportation shows we need to invest nearly $90 billion just to bring our systems into a state of good repair. More than 40 percent of buses and 25 percent of rail train assets are in marginal or poor condition."
Recently the American Society of Civil Engineers (ASCE) rated the nation's public transit infrastructure a D minus. That is the lowest infrastructure grade of ASCE's ten critical infrastructure sectors and it shows transit infrastructure's further degradation from the previous report.
As Congress moves forward with implementation of a new infrastructure initiative, APTA urges the Trump Administration and Congress to dramatically increase the current investment levels in support of the nation's public transportation and intercity passenger rail systems.
"We live in a time where there may be a number of policy issues that separate us, but investing in our public transportation infrastructure is the one issue that unites us," said White.
The APTA Infrastructure Analysis is based on data collected from four Federal funding formula programs and local metropolitan planning organizations. Calculations of job creation are derived from economic models developed by APTA through its established published economic studies. To access the amount of funding per Congressional district, and information on projects in parts of the country go to www.apta.com/Analysis.
About the American Public Transportation Association (APTA)
The American Public Transportation Association (APTA) is a nonprofit international association of 1,500 public and private sector organizations, engaged in the areas of bus, paratransit, light rail, commuter rail, subways, waterborne services, and intercity and high-speed passenger rail. This includes: transit systems; planning, design, construction, and finance firms; product and service providers; academic institutions; transit associations and state departments of transportation. APTA is the only association in North America that represents all modes of public transportation. APTA members serve the public interest by providing safe, efficient and economical transit services and products. More than 90 percent of the people using public transportation in the United States and Canada ride APTA member systems.