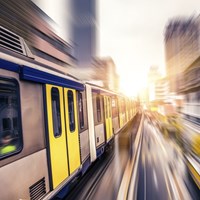 DMRC awards Consortium of Ansaldo STS & ZTE Corporation equivalent amount of EUR 38.8 million works for Train Control, Signalling (CBTC) and Telecommunication Systems for Noida-Greater Noida Metro Project.
The Delhi Metro Rail Corporation Ltd. (DMRC) has been authorized by Noida Metro Rail Corporation (NMRC) to proceed with the implementation of Metro Rail System for Noida - Greater Noida Corridor.
Noida – Greater Noida Metro Rail Project has a total length of 28.086 Km between Centre Lines of end stations, fully constructed on elevated viaduct with 21 elevated stations.
The Consortium consists of Ansaldo STS, a Hitachi Group company, and ZTE Corporation.
The Chief Executive Officer and General Manager, Andy Barr, thanking the team and partners for this important result, said that "Since our first CBTC contract in India in July 2014, we have been working hard to develop the market for the future. Today I am delighted to announce the second contract for this technology in this area, which confirms Ansaldo STS's competitive position and leadership".
The scope of work is Design, Manufacture, Supply, Installation, Testing and Commissioning of Train Control, Signalling and Telecommunication System, Supply of Spares and Training of Operation & Maintenance personnel.
The contract value for Ansaldo STS is the equivalent amount of Euro 26 million.
Ansaldo STS, as Leader of the Consortium , is responsible for the implementation of Train Control, Signalling (CBTC technology-based) and part of Telecommunication System.
The new system will be designed to ensure the safe and efficient movement of trains. This system will meet the requirements through the implementation of Automatic Train Protection (ATP) functions and support of Automatic Train Operation (ATO) and Automatic Train Supervision (ATS) functions. The new system will also employ Train-To Wayside Communications (TWC).
Expected duration of the construction phase: about two years.
About Ansaldo STS
Ansaldo STS, listed on the Italian Stock Exchange, is an international technology company specializing in the design, implementation and management of transport systems and signaling equipment for railways and underground railways, both for freight and passengers. The Group acts as a Main Contractor and supplier of "turnkey" systems worldwide. Ansaldo STS is headquartered in Genoa and employs about 3,800 people in more than 30 countries. In 2015, it reported revenues of EUR 1,383.8 million with an operating income (EBIT) of EUR 135.8 million and a consolidated net profit of EUR 93.0 million.