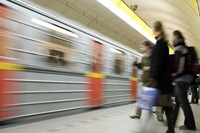 On April 29th 2015, the Garibaldi-San Siro section of metro line 5 will be opened on time for the inauguration of Expo 2015, serving the San Siro football stadium.
Ansaldo STS has a global presence and references for their well-established driverless technology including Metro Copenhagen which became operational in October 2002 and was awarded Best Metro in the World in 2008, 2009 and 2010.
The distinctive feature of this system allows remote supervision of daily train traffic, ensuring travelers a continuous and reliable service.
There are many advantages over conventional subways:
Less vehicle and infrastructure investment is required;
Reduction of running costs;
Automatic delay recovery during operations;
Higher safety levels exclude the possibility of human error;
The system is able to drive the frequency of trains in accordance with the demands of daily traffic adding more trips during rush hour and reducing them during quieter periods.
This project provides an answer to the congestion of the Garibaldi-Testi junction, one of the most important urban lines in the city. Commuters will appreciate the significant efficiency that ASTS driverless technology can provide while maintaining safety. This technology is gaining worldwide recognition for ASTS.
Ansaldo STS is a leader of driverless technology, with 12 projects completed or nearing completion with over 250 miles of line running in Milan, Copenhagen, Brescia, Thessaloniki, Rome, Riyadh, Taipei, Honolulu and Lima.
One more new project delivered under the leadership of Stefano Siragusa, CEO of Ansaldo STS since January 2014.
About Ansaldo STS
The Group is an industry leader in signalling and rail transport systems.The Group, with its worldwide presence, operates in Central and Eastern Europe, Middle East, Western Europe, North Africa, the Americas and Asia Pacific.
We operate throughout the world as lead contractors, system integrators and turnkey suppliers of the largest railway and subway mass transit projects.
Group companies provide traffic management, train control, production of signalling systems and maintenance services, all aiming to achieve lasting effieciency and safety for both clients and end-users.