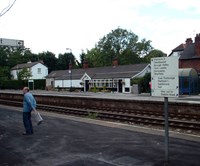 Ansaldo STS and Linbrooke Services Limited have been awarded the contract worth £34.5 million (£15.15 million for Ansaldo STS and £19.35 million for Linbrooke) relating to the re-signalling of the line with computer based interlocking technology.
The CBI technology will be implemented to upgrade the 7 main stations served along the 35 miles between Ferriby and Gilberdyke.
After its successive implementations on High Speed One and Cambrian Lines, Ansaldo STS's interlocking technology has been selected for the Network Rail project to re-signal and upgrade the line from Ferriby to Gilberdyke (county of North Humberside). The re-signalling contract has been awarded to the consortium of Ansaldo STS and Linbrooke Services Limited.
Within the scope of the contract, Ansaldo STS will lead the consortium and be responsible for the SEI CBI signalling system design and supply and the axle counter system design, supply and integration.
Linbrooke will deliver the signalling and power construction works, the telecommunications system design and construction and will be the overall UK Tester in Charge.
The project begins in February 2016 and is due to be commissioned in March 2018.
With this new and exciting project, the consortium is proud to support its partner Network Rail in the development of a more interoperable and sustainable railway network in the UK.
About Ansaldo STS
Ansaldo STS, listed on the Italian Stock Exchange, is an international technology company specializing in the design, implementation and management of transport systems and signaling equipment for railways and underground railways, both for freight and passengers. The Group acts as a Main Contractor and supplier of "turnkey" systems worldwide. Ansaldo STS is headquartered in Genoa and employs about 3,800 people in more than 30 countries. In 2014, it reported revenues of EUR 1.303.5 million with an operating income (EBIT) of EUR 124.5 million and a consolidated net profit of EUR 80.7 million.