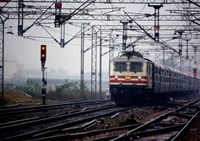 Ansaldo STS has been awarded two contracts for a total value of EURO 74.8 million related to the signalling of the DD Rome – Florence route of the AC/AV Turin – Milan – Naples line
The scope of work of Ansaldo STS, in the contracts awarded by RFI (Italian Railway Network), is related to the design and construction of the Ground Subsystem ERTMS/ETCS Level 2, of the ACC-M, and of the complementary and accessory technological upgrade operations for the DD Rome – Florence route of the AC/AV Turin – Milan – Naples line.
Ansaldo STS supply the ACCM and ERTMS signalling systems, the Bushing Temperature Detection system, the Track Temperature Monitoring system, the power systems, the adjustment of the buildings and the telecommunication systems.
Ansaldo STS signalling systems will serve the current 234 km double track line elevating it to the highest technological levels.
Ansaldo STS is proud to give once again its support and commitment to RFI for the renovation of Italian railway systems.
About Ansaldo STS
Ansaldo STS, listed on the Italian Stock Exchange, is an international technology company specializing in the design, implementation and management of transport systems and signaling equipment for railways and underground railways, both for freight and passengers. The Group acts as a Main Contractor and supplier of "turnkey" systems worldwide. Ansaldo STS is headquartered in Genoa and employs about 3,800 people in more than 30 countries. In 2015, it reported revenues of EUR 1,383.8 million with an operating income (EBIT) of EUR 135.8 million and a consolidated net profit of EUR 93.0 million.