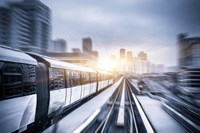 On 28th December 2016, the "Saturno Consortium for the undertaking of High Technology Railway works for the Italian High Speed Railway System", of which Ansaldo STS S.p.A is member, signed a contract with the General Contractor, the Consorzio Collegamenti Integrati Veloci ("COCIV") for the production of the technological systems for the AV/AC Project (High Speed and High Capacity) of the "Terzo Valico dei Giovi" Milan – Genoa line.
The scope of work entrusted to Ansaldo STS is to supply the technology relating to the railway signalling systems, TMS, (SCCM/AV), Power Supply and Auxiliary Systems and the system for monitoring tunnel safety. The overall value of the works assigned to Ansaldo STS amounts at EUR 174.6 million.
Ansaldo STS is a global leader in the sector of signalling and integrated transport systems, both for passenger transport (Railway/Mass Transit) and for transport of goods (Freight). The company designs and produces signalling systems and components for the management and control of railway and urban traffic. It designs, develops and plans the necessary works to provide the most cutting-edge railway and urban systems technology.
About Ansaldo STS
Ansaldo STS, listed on the Italian Stock Exchange, is an international technology company specializing in the design, implementation and management of transport systems and signaling equipment for railways and underground railways, both for freight and passengers. The Group acts as a Main Contractor and supplier of "turnkey" systems worldwide. Ansaldo STS is headquartered in Genoa and employs about 3,800 people in more than 30 countries. In 2015, it reported revenues of EUR 1,383.8 million with an operating income (EBIT) of EUR 135.8 million and a consolidated net profit of EUR 93.0 million