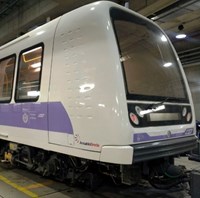 "After today's inauguration of the extension of the Milan M5 AnsaldoBreda strengthens its role as a world leader in the driverless metros segment".
This is the comment of Maurizio Manfellotto, CEO of the company part of the Finmeccanica Group, at the end of the ceremony, attended by the Mayor Giuliano Pisapia, held at the station of San Siro.
"After the delivery of the 19 trains listed in the contract - highlights Manfellotto - AB has further strengthened its leadership in the category of the driverless metros in operation, tangible sign that our technological level is increasingly appreciated.
"We have now reached the 30% of the market share - detects the CEO - but we want to go further and we are working to introduce products that are able to catch more and more the needs of our customers".
About AnsaldoBreda
AnsaldoBreda is the Finmeccanica company specialized in the construction of technologically advanced rolling stock. AnsaldoBreda has 150 years of experience in the industry resulting from the merger that took place in 2001 between Ansaldo Trasporti and Breda Costruzioni Ferroviarie, two companies heirs of the Italian tradition in the field of rail vehicles. The merger has enabled the integration of the electrical expertise with the mechanical one, making AnsaldoBreda able to design and build a complete product independently. The company has production sites in Naples, Pistoia, Reggio Calabria and Palermo and is also present in Spain and the United States. Innovation and versatility are the features of AnsaldoBreda vehicles: Sirio trams, driverless metros, regional trains and high-speed trains (including the brand new Frecciarossa1000, capable of reaching 400km/h and to be the fastest train in Europe) are the AB technological answer to the contemporary meaning of a "journey", being it short, medium or long-distance.