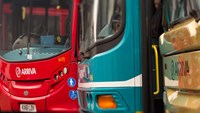 Leading European passenger transport group Arriva has confirmed the acquisition of established Slovenian bus operator Alpetour.
With 220 buses running on approximately 292 routes, Alpetour covers the country's Gorenjska region - operating services in the capital Ljubljana and in the surrounding towns of Jesenice and Kranj where the company is headquartered.
Established in 1947, the business employs 447 people with annual revenues of €36 million in 2014. It will continue to be led by chief executive Ivanka Zupancic Gaber with the Alpetour brand being retained alongside Arriva's.
The acquisition sees Arriva doubling the size of its operations in Slovenia, where it already operates bus services in Maribor, Koper, Novo Mesto and in Ljubljana. It brings Arriva's total employees in Slovenia to 975 and increases its total bus fleet in the county to 540.
Marco Piuri, director of Arriva's Southern, Central and Eastern European region, said: "The acquisition of Alpetour is an important strategic development for Arriva in Slovenia and significantly accelerates our growth in a country and in a region where we have an established presence.
"Alpetour is a respected business with an impressive track record of delivering for clients and customers in Slovenia. Now part of Arriva, we look forward to developing the business further alongside the management team and Alpetour's employees.
"The acquisition comes just over two years since Arriva entered the Slovenian bus market. Since then we have built up a presence in key markets, winning new contracts and forging lasting relations with tendering authorities."
In May 2013 Arriva became the largest international passenger transport operator in Central and Eastern Europe following their acquisition of Veolia Transdev Central Europe (VTCE).
The acquisition of VTCE expanded Arriva's operations in existing markets in Czech Republic, Poland and Slovakia, and saw the business enter new markets in the Adriatic countries of Slovenia, Serbia and Croatia.
About Arriva
Arriva is one of the largest providers of passenger transport in Europe, employing more than 55,000 people and delivering more than 2.2 billion passenger journeys across 14 European countries each year.
We operate a wide range of services including local buses, inter-urban commuter coaches, local, regional and national train services, trams and light rail, waterbuses, demand response, non-emergency patient transport and airport related transport services.
Arriva is part of Deutsche Bahn (DB) and is responsible for DB's regional passenger transport services outside Germany.