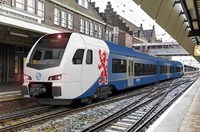 Leading European passenger transport group Arriva has been awarded a £1.4 billion bus and rail contract in the Netherlands.
Arriva will begin the 15-year contract in the Dutch province of Limburg from 11 December 2016 and will operate a fleet of 226 new buses which will serve passengers in towns and cities including Maastricht, Heerlen and Roermond.
A fleet of 36 new trains will also be operated by Arriva in the Limburg province with services including cross-border trains to Germany and Belgium.
The contract award cements the firm's position as one of the leading public transport operators in the Netherlands where they already operate 1,200 buses, 101 trains and have 5,000 employees. Arriva has a total of 55,000 employees across Europe.
The Limburg concession award comes only six months after Arriva Netherlands began to operate an eight-year and a 10-year bus contract in the Brabant region which borders Limburg.
David Martin, Chief Executive of Arriva said: "We are already a major transport operator in the Netherlands so we are naturally delighted to be expanding our operations further in the south of the country.
"We submitted a pioneering bid for the Limburg concession which was based around innovation, new ticketing systems for customers and new connections across the region and into Germany and Belgium. We look forward to starting in December next year and attracting more people to bus and rail services in the Netherlands."
As part of the contract Arriva will be running a direct train service between Liege and Aachen via a hub in Eijsden and will launch a simplified ticketing system for both bus and rail.
Services will also be integrated with existing IC bus routes and Arriva will start new cross-border bus services to Hamont in Belgium. The company also confirmed that it will open a new regional head office in Heerlen.