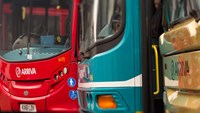 Leading European transport operator Arriva has today welcomed the Direct Award by the Department for Transport (DfT) regarding the operation of the CrossCountry rail franchise.
Arriva, which originally won the CrossCountry franchise in 2007, will now operate the franchise through the new agreement until October 2019, promising further service improvements for customers and investment. This includes:
An additional 39,000 seats by December 2017 in peak periods on the Edinburgh-Plymouth route through Leeds, Birmingham and Bristol
Cutting journey times from Birmingham to Manchester by up to 12 minutes at weekends and nine minutes on weekdays
A £20m investment by the Government to further modernise CrossCountry's HST fleet, including powered doors
Free on-board Wifi and 4G connection upgrades by April 2018
Improved customer information with a 24/7 customer service line
£1m of extra funding for Community Rail Partnerships across the network over the three year period
New station calls at Morpeth, supporting peak journeys to Scotland, Yorkshire and the Midlands
Chris Burchell, managing director of Arriva UK Trains said: "Under Arriva, the CrossCountry franchise has made significant progress for customers since 2007 so we are delighted to have the opportunity to operate the franchise for a further three years.
"Over the past nine years our investment programme has focussed on taking the CrossCountry franchise to a new level, enjoying national recognition for our innovation and customer service. We have introduced new timetables, extra station calls, refurbished carriages, re-introduced the fleet of High Speed Trains and, using new technology, delivered one of the industry's most forward-thinking e-ticketing and on-board reservation solutions, helping to ensure customers have faster and easier access to great value fares.
"CrossCountry will continue to work closely with the Department for Transport over the next three years to meet targets and deliver further planned improvements for passengers."
The CrossCountry network is the most extensive rail franchise in the UK. Stretching from Aberdeen to Penzance, and from Stansted to Cardiff, it covers around 1,500 route miles and calls at over 100 stations.
Since 2007 CrossCountry has delivered a 35% increase in capacity, introduced at-seat catering on all routes, invested in rolling stock improvements and launched onboard Wifi on its Voyager and HST fleets.
About Arriva
Arriva is one of the largest providers of passenger transport in Europe, employing more than 55,000 people and delivering more than 2.2 billion passenger journeys across 14 European countries each year.
We operate a wide range of services including local buses, inter-urban commuter coaches, local, regional and national train services, trams and light rail, waterbuses, demand response, non-emergency patient transport and airport related transport services.
Arriva is part of Deutsche Bahn (DB) and is responsible for DB's regional passenger transport services outside Germany.