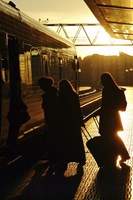 Arriva is giving its support to a national rail industry campaign which highlights the crucial role of Britain's railway and planned future investments into the country's network.
The Rail Delivery Group, which is backed by Arriva and other train operators, has today launched it's 'Britain Runs On Rail' campaign which will tell the story of modern railways in the UK and provide information to the public on the industry-wide Railway Upgrade Plan – a £50 billion package of improvements and investment into new trains, track and infrastructure upgrades, and to improve the experience of passengers.
The national campaign, the first since the 1980s, will showcase how the UK rail network is expected to grow over the next 25 years and how the government and private companies have a key part to play in the future of the railway – a network which plays an increasingly important role in enabling jobs, housing and economic growth.
Chris Burchell, managing director for Arriva UK Trains said: "Rail passenger numbers have doubled in the UK since 1996 so as a major rail operator, Arriva is backing this national campaign so even more people can learn about the benefits the railway brings and the huge improvements planned in the coming years.
"Putting passengers first, Arriva continues to invest into the UK's railways, a programme which includes a promised £1bn investment into the Northern franchise which we are already beginning to deliver.
"Train operators and Network Rail are working closer together than ever to deliver improvements for passengers. We are supporting the campaign as it will help to tell the story of today's railway, and plans for the future, to a far wider audience."
About Arriva
Arriva is one of the largest providers of passenger transport in Europe, employing more than 55,000 people and delivering more than 2.2 billion passenger journeys across 14 European countries each year.
We operate a wide range of services including local buses, inter-urban commuter coaches, local, regional and national train services, trams and light rail, waterbuses, demand response, non-emergency patient transport and airport related transport services.
Arriva is part of Deutsche Bahn (DB) and is responsible for DB's regional passenger transport services outside Germany.