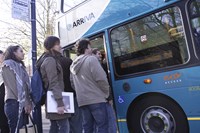 Arriva has signed a new agreement that will deliver passenger-focussed improvements and investment in bus service across Merseyside as part of a five year partnership.
The Liverpool City Region Bus Alliance, a partnership with Merseytravel and Stagecoach, will provide local people with improved, more efficient, joined-up and better value services. The landmark agreement also sees a commitment from operators to provide modern bus fleets with an average age of no more than seven years.
Passengers will benefit from a range of new services and customer-focused improvements, including improved smart ticketing, and Wi-Fi and USB charging on all new buses so passengers can charge their mobile devices on the move.
Arriva will partner fully on a range of initiatives including marketing campaigns, on-bus cleaning and customer service training. The agreement promises improved links to the city's John Lennon Airport, and a new night bus service will continue to be piloted.
To encourage significantly more people to use buses across the city region both operators will also sign up to clearly defined targets around punctuality and passenger satisfaction.
The Liverpool City Region Bus Alliance is a key element of a comprehensive bus strategy for the region. Built around the idea of 'multimodal' transport for customers, changing between rail and bus services will be simplified making journeys easier and more enjoyable for passengers.
Kevin O'Connor. Managing Director of Arriva UK Bus, said:
"We're thrilled to sign the Bus Alliance, a partnership that will bring great benefits to passengers and the Liverpool City Region.
"This innovative partnership helps secure continued sustainable investment for the Region's bus services, including through more new and greener vehicles, simpler ticketing, greater integration and improved customer services.
"By making bus travel an even more attractive choice and delivering improvements to the network, the Alliance between Merseytravel and commercial operators will also support Liverpool City Region's current and future economic growth. The Alliance shows just what can be achieved by working together and, most importantly, it will deliver benefits for passengers."
Howard Farrall, Area Managing Director, Merseyside, added: "The signing of the Alliance is an exciting milestone for passengers across the region.
"It commits all operators and our partners to a package of measures designed to make the bus network here on Merseyside even more attractive, affordable and accessible for passengers.
"The Alliance promises to be a first-class partnership for our region. It brings together operators and the local authority, working together under an agreed framework to deliver even better bus services, networks and customer service for passengers."
About Arriva
Arriva is one of the largest providers of passenger transport in Europe, employing more than 55,000 people and delivering more than 2.2 billion passenger journeys across 14 European countries each year.
We operate a wide range of services including local buses, inter-urban commuter coaches, local, regional and national train services, trams and light rail, waterbuses, demand response, non-emergency patient transport and airport related transport services.
Arriva is part of Deutsche Bahn (DB) and is responsible for DB's regional passenger transport services outside Germany.