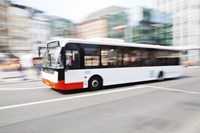 Leading European passenger transport group Arriva has confirmed the acquisition of Italian bus operator Savda.
Based in the country's northern Aosta Valley, Savda operates almost 50 per cent of the region's local bus network, private hire services and long distance routes to Turin, Milan and into Switzerland and France.
The company, which Arriva has purchased from the Bordon family, employs 145 people and has a fleet of over 100 buses across three depots. In 2015 it generated revenues of £9m.
The acquisition sees Arriva continuing to grow in northern Italy where it now employs 3,550 people and operates 2,400 buses across the Lombardy, Piedmont, Liguria and Friuli Venezia-Giulia regions.
Leopoldo Montanari, managing director of Arriva Italy said: "We are delighted to bring Savda into the Arriva Italy family and look forward to investing further into the business in the months and years ahead.
"Arriva has always invested in local communities across Italy and we have proven that, working closely with local authorities, we can provide effective and efficient public transport services.
"Savda is an established business and considerably grows our presence in the bus market across the Aosta Valley and the area surrounding Turin."
To ensure a smooth transition, Giuseppe Proto, managing director of Arriva's Turin-based Sadem bus operation and Arriva Italia Rail, will become managing director of Savda.
About Arriva
Arriva is one of the largest providers of passenger transport in Europe, employing more than 55,000 people and delivering more than 2.2 billion passenger journeys across 14 European countries each year.
We operate a wide range of services including local buses, inter-urban commuter coaches, local, regional and national train services, trams and light rail, waterbuses, demand response, non-emergency patient transport and airport related transport services.
Arriva is part of Deutsche Bahn (DB) and is responsible for DB's regional passenger transport services outside Germany.