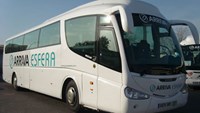 Leading European passenger transport group Arriva has increased its presence in the Spanish bus market through the acquisition of Galcia-based bus operators, Autos Carballo (Aucasa) and Santiaguesa Metropolitana.
The acquisitions see Arriva Noroeste increasing its fleet by 69 buses and 43 employees, further strengthening its position as the main provider of bus services in Spain's north western region.
Alfonso Blanco, managing director Arriva Spain said: "The acquisitions of Autos Carballo and Santiaguesa Metropolitana confirm Arriva's commitment to Galicia and the surrounding area where we are proud to have operated successfully for over 15 years. Arriva has a strong track record of investing in local communities to provide effective and efficient public transport and we are delighted to be expanding further in an important region of the country."
Following the acquisitions, Arriva now operates 520 buses in Spain with 940 employees. Arriva's Spanish operations also include DeBlas, Autocares Mallorca and Esfera.
About Arriva
Arriva is one of the largest providers of passenger transport in Europe, employing more than 55,000 people and delivering more than 2.2 billion passenger journeys across 14 European countries each year.
We operate a wide range of services including local buses, inter-urban commuter coaches, local, regional and national train services, trams and light rail, waterbuses, demand response, non-emergency patient transport and airport related transport services.
Arriva is part of Deutsche Bahn (DB) and is responsible for DB's regional passenger transport services outside Germany.