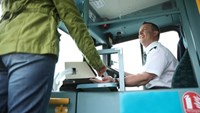 Arriva UK Bus is leading the way with a new and innovative way for people to travel which embraces technology and is set to drive the bus transport market into a new arena.
On March 3rd Arriva launched ArrivaClick, becoming the first national operator to launch a fully customer led demand responsive service – developed in partnership with US transportation solutions firm Via that provides dynamic shared ride services in New York, Chicago and Washington DC.
The ArrivaClick smartphone app enables customers to request a smart minibus from their pick up point at a time they want and to a destination of their choosing, their journey will then be matched with other people heading towards the same destination. Once booked, customers are guaranteed a seat on the high specification buses, which can accommodate 12 people, and are able to enjoy leather seats, use of a table, USB points, free Wi-Fi and electrical charging points.
To use the new way of travelling, customers simply download the app onto their smart phone, create an account to buy credit which can be topped up and then request their journey by booking their seat on the bus. They are given a proposed cost and ETA for the journey and once accepted, they can track the bus's arrival in app as they wait.
Currently the ArrivaClick service has been launched in and around Kent Science Park and Sittingbourne, but Arriva will widen the geographic area of service. The development comes during a time that sees Arriva rolling out a number of new digital payment solutions in response to customer led insight. This development is another example of how the company is improving their customer experience and offering best service, while also utilising technology.
Alistair Hands, Commercial Director UK Bus – Arriva Group, said the app demonstrated Arriva's desire to continue to provide innovative services and push the transportation sector forward.
"The ArrivaClick app is the result of two driving forces, the first being the continued demand from existing customers to prioritise punctuality of service and frequency. The second force is a shift in consumer and market behaviour which has seen people expecting a service that is bespoke and tailored to their specific needs – whilst also being reactive and sitting in the palm of their hand.
"ArrivaClick delivers all of the above and is a totally new bus experience and a new way of travelling, appealing to people in a different way to bus travel of the past.
"We see similar ways of travelling on the continent and we believe there is a demand for this type of service here in the UK too.
"It's also a demonstration of how our business continues to put customer needs at the centre of developments and drive forward with innovative services and the best use of technology."
The project has been developed in partnership with Via. As part of the ArrivaClick project, Via has provided a custom built rider app, the Via driver app and a powerful backend technology and algorithm to power the service's routing and dispatch functions. These algorithms allow passengers to be picked up and dropped off in an endless stream, without taking riders out of their way to accommodate other passengers, enabling the platform to move a high volume of riders while using a fraction of the number of vehicles utilised by other on-demand car services.
Zachary Wasserman, Head of Global Business Development at Via, said: "This is the first time Via has partnered with a transit organisation to provide a full end-to-end operating system and we are really looking forward to following the success of ArrivaClick. So far we have enjoyed great growth in the United States that has seen us provide more than 12 million rides, and we're looking forward to growing the service in the UK."
About Arriva UK Bus
Arriva UK Bus is part of Arriva plc, one of the largest passenger transport providers in Europe, employing some 54,500 people and delivering more than 2.2 billion passenger journeys across 14 European countries every year. It currently operates a fleet of some 5,900 vehicles in the UK alone, providing services in the North East, North West and South East of England, Yorkshire, the Midlands and Wales.
In addition to the Arriva-branded networks, it also operates locally branded bus services including Hinckleybus, Yorkshire Tiger, Network Colchester and Green Line, which provides regular coach services between central London and the Home Counties.
In 2010, Arriva was acquired by Deutsche Bahn, and is now responsible for the growth and development of all Deutsche Bahn's regional passenger transport outside of Germany.