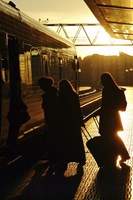 The Competition and Markets Authority (CMA) has today published its final decision on the award of the Northern franchise to Arriva.
The report considers potential competition issues arising from the operation of the Northern franchise alongside Arriva's existing bus and rail services. The CMA examined passenger flows – where Northern services overlap with existing Arriva bus and/or rail markets – and in 99.8 per cent of cases found that there aren't potential competition considerations.
Commenting on the publication of the final decision, Chris Burchell, Managing Director UK Trains said:
"We're very pleased that the CMA has taken on board our representations. We have consistently maintained throughout this process that the operation of the Northern franchise by Arriva alongside our existing bus and rail businesses doesn't lead to a lessening of competition, and we welcome that the CMA has found there isn't a concern in the overwhelming majority of instances.
"We will now continue to constructively address the final points raised to agree acceptable solutions with the CMA for the handful of issues identified on the remaining passenger flows.
"We are also pleased that the CMA continues to recognise our commitment to delivering a range of passenger-focused benefits through the Northern rail franchise, such as better trains and improved customer service. We remain fully committed to delivering these plans for the benefit of all customers and communities across the region.
"We fully support the very important task of ensuring competition for the benefit of consumers and with the conclusion of this process, we believe that it is now an appropriate time to review how this process is applied to the award of future rail franchises."
About Arriva
Arriva is one of the largest providers of passenger transport in Europe, employing more than 55,000 people and delivering more than 2.2 billion passenger journeys across 14 European countries each year.
We operate a wide range of services including local buses, inter-urban commuter coaches, local, regional and national train services, trams and light rail, waterbuses, demand response, non-emergency patient transport and airport related transport services.
Arriva is part of Deutsche Bahn (DB) and is responsible for DB's regional passenger transport services outside Germany.