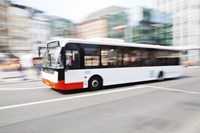 Leading European passenger transport group Arriva has increased its growing presence in the Czech Republic by acquiring a 100 per cent share of bus operator, CSAD MHD Kladno.
With inter-urban services operating in Central Bohemia and to the north and south west of the capital Prague, CSAD MHD Kladno has a two per cent share of the Czech bus market with a fleet of 160 buses operating from one depot in Kladno. Previously owned by REGA Prerov, CSAD MHD Kladno generated revenues of €16m in 2015 and has 363 employees.
The deal, which strengthens Arriva's market share in the Czech Republic, also includes service business KD Servis which manages fuel, vehicle parts and maintenance programmes on behalf of other transport operators.
Daniel Adamka, managing director of Arriva Czech Republic said: "CSAD MHD Kladno has grown into a respected bus operator over several years, especially through their routes to the west of Prague, including routes around Prague's expanding airport.
"The acquisition is exciting news for Arriva in the Czech Republic as it expands our operations and will allow us to integrate existing services far more effectively for passengers, whilst looking at new opportunities and contracts.
"We welcome 363 employees to the Arriva family and I know they are looking forward to contributing to the success of Arriva in the years ahead."
Radim Novák, managing director of Arriva Central and Eastern Europe added: "CSAD MHD Kladno brings another success story after recent acquisitions and the growth of the business in our CEE region. It is the next milestone in fulfilling our strategy of being a bigger and better Arriva."
Following the acquisition Arriva now operates over 2,100 buses in the Czech Republic with almost 3,500 employees.
Arriva
Arriva is one of the largest providers of passenger transport in Europe, employing more than 55,000 people and delivering more than 2.2 billion passenger journeys across 14 European countries each year.
We operate a wide range of services including local buses, inter-urban commuter coaches, local, regional and national train services, trams and light rail, waterbuses, demand response, non-emergency patient transport and airport related transport services.
Arriva is part of Deutsche Bahn (DB) and is responsible for DB's regional passenger transport services outside Germany.