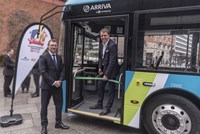 The Liverpool City Region will have its first commercial electric bus routes next month when 12 new electric buses will be introduced in the final part of a £21 million investment into cutting edge green technology from Arriva Merseyside this year, demonstrating the bus firm's continued efforts to improve air-quality in the region.
The buses will travel on the City Centre Circular Routes 26 and 27, known as 'The Belt' which run from the city centre through Everton Valley, Anfield and Kensington.
These new buses have been made possible through a successful £5million bid for Government (OLEV) funding for new, greener buses, in partnership with Merseytravel.
The new BYD ADL Enviro200EV single deck pure electric buses have been designed by ADL & BYD using zero-emission technology and will join the 51 hybrid and 9 gas buses that came into Arriva's fleet earlier this year.
Said Cllr Liam Robinson, Chair of the Liverpool City Region Transport Committee which oversees the work of Merseytravel: "The bid we put in to Government with Arriva for the funding for these new buses as part of the Liverpool City Region Bus Alliance was the biggest award in that round of funding, recognising our commitment to cleaner, greener travel. It's great to see that award now translate into real, state-of-the-art buses on some of our busiest routes"
Arriva recognises that increasing bus patronage and reducing private car use is a vital step to reducing air pollution. Research by Greener Journeys shows harmful emissions per passenger are 10 times worse in a modern diesel car compared to a modern diesel bus.
The introduction of these zero emission buses are also just one of the ways in which Arriva, as part of the Liverpool City Region Bus Alliance, with Merseytavel and Stagecoach, is encouraging more people to choose to travel by bus. The Bus Alliance has launched the 'Better By Bus' campaign, communicating the advantages of travelling by bus and the experience passengers can expect on the new fleets. Passengers can now enjoy exclusive ticket offers, smarter mobile ticketing apps and on-board technology solutions such as free wi-fi and USB charging points.
The 12 new electric buses were introduced by the new Metro Mayor of the Liverpool City Region, Steve Rotheram, who said: "Modern, high quality buses with access to Wifi and USB are important to a City Region committed to creating an exemplar public transport system, but so too is environmental performance. Low emission buses already make up 70 per cent of the Bus Alliance fleet and these zero emission electric buses are now setting the future standard."
The new fully electric buses have been designed to operate without the need for disruptive 'top up' charging, covering up to 130 miles on a single charge, and being zero emission they are furthering Arriva's mission to 'Destination Green'.
Howard Farrall, Arriva Merseyside Managing Director said: "Arriva is committed to ensuring its fleet meets the latest clean vehicle standards. We are extremely proud to be joining forces with ADL & BYD at the forefront of the electric bus revolution. This new partnership will further contribute to Arriva's 'Destination Green' environmental goal, which includes ambitious plans to reduce carbon emissions, conserve energy and invest in renewable sources."
Kevin O'Connor, Managing Director for Arriva UK Bus, said: "Working as a partner within the Liverpool City Region Bus Alliance, we have been able to deliver newer, greener and technologically enabled buses for our customers. The 72 new eco-friendly buses introduced this year are the fruits of that successful partnership."
About Arriva
Arriva is one of the largest providers of passenger transport in Europe, employing more than 55,000 people and delivering more than 2.2 billion passenger journeys across 14 European countries each year.
We operate a wide range of services including local buses, inter-urban commuter coaches, local, regional and national train services, trams and light rail, waterbuses, demand response, non-emergency patient transport and airport related transport services.
Arriva is part of Deutsche Bahn (DB) and is responsible for DB's regional passenger transport services outside Germany.