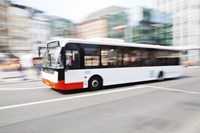 Arriva has announced the signing of a partnership agreement in Italy with transport solutions specialist GoGoBus to develop shared bus services for events across the country and Europe.
GoGoBus, founded in 2015, are experts in providing buses and coaches to a variety of sporting and music events across Europe – with Arriva now becoming the preferred transport provider for all GoGoBus events.
Angelo Costa, Interim Managing Director Arriva Italy said: "We are very pleased with this partnership and to join forces with a brilliant young start-up which is able to identify an interesting business development area for us."
About Arriva
Arriva is one of the largest providers of passenger transport in Europe, employing more than 55,000 people and delivering more than 2.2 billion passenger journeys across 14 European countries each year.
We operate a wide range of services including local buses, inter-urban commuter coaches, local, regional and national train services, trams and light rail, waterbuses, demand response, non-emergency patient transport and airport related transport services.
Arriva is part of Deutsche Bahn (DB) and is responsible for DB's regional passenger transport services outside Germany.