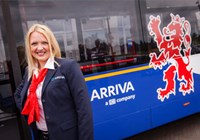 Start of 15-year, £1.7 billion bus and rail contract
New integrated networks, contactless ticketing and faster bus routes
Zero-emission bus and train fleet within 10 years
Leading European public transport operator Arriva has today started the 15-year multi-modal Limburg contract in the Netherlands which will integrate services and provide new technology for passengers.
Arriva will operate a fleet of 250 new buses, introduced in phases throughout the length of the £1.7 billion contract, in towns and cities including Maastricht, Heerlen and Roermond.
A fleet of 46 trains will also be operated by Arriva across the Limburg province, including cross-border services to Germany and Belgium.
Within 10 years, all buses and trains will be emission-free as part of Arriva's environmental commitment with passengers benefiting from a fleet of new electric buses and trains which will gradually replace the current diesel fleets.
Arriva will also introduce free Wi-Fi, contactless and simplified ticketing, integrated timetables, faster routes and a fleet of mini-buses will serve rural areas.
Manfred Rudhart, chief executive of Arriva said: "It has been a successful mobilisation of the Limburg contract and we are delighted to be officially starting operations today and to welcome our new passengers.
"We are already one of the major transport mobility providers in the Netherlands and the new contract in Limburg represents another milestone for us.
"It is a truly multi-modal contract where our investment and future plans put passengers first.
"It will see the integration of local and cross-border services, new buses and trains, contactless ticketing and new on-board technology – all areas which are vital to the future of public transport."
From March 2017, Arriva will also operate a two-year bike sharing pilot scheme in Maastricht as part of the Limburg contract. The scheme will be run in partnership with Nextbike beginning with 60 bikes at six railway stations.
Arriva now operates 1,550 buses, 147 trains, 11 waterbuses and has 6,000 employees in the Netherlands.
About Arriva
Arriva is one of the largest providers of passenger transport in Europe, employing more than 55,000 people and delivering more than 2.2 billion passenger journeys across 14 European countries each year.
We operate a wide range of services including local buses, inter-urban commuter coaches, local, regional and national train services, trams and light rail, waterbuses, demand response, non-emergency patient transport and airport related transport services.
Arriva is part of Deutsche Bahn (DB) and is responsible for DB's regional passenger transport services outside Germany.