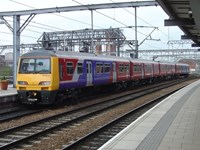 Arriva, one of Europe's leading transport operators, has welcomed the Department for Transport's decision to award it the Northern rail franchise.
Arriva's winning bid is based on ambitious plans to drive improvements and transform rail travel in the North of England through a £1bn investment programme.
These plans include:
Substantial investment in new and refurbished trains: The introduction of 281 new carriages, the full refurbishment of the remaining fleet and the removal of all Pacer trains within three years.
More services and faster journeys: Over 2,000 more trains each week – an increase of 12 per cent across the Northern network by 2019 - with more frequent, earlier and later trains offering passengers greater choice. Beginning in December 2017, new timetables will provide 100 new through journey opportunities across Leeds, Manchester, Newcastle, Sheffield and other regional hubs.
More capacity: With more and longer trains there will be a 37 per cent increase in peak time capacity.
Significant station improvements: Investing in station facilities to make rail travel simpler and more comfortable by giving customers easier access to information and providing new seating and waiting areas.
Value for money and choice: Creating easier ticketing options which include new advanced and off-peak fares – alongside improved retailing at stations.
Connecting customers: Launching in 2019 with new trains, enhanced inter-urban Northern Connect services will provide faster city connections with free WiFi.
Northern employees: 45 currently unstaffed stations will be staffed while there will be extended opening hours at 54 locations.
The Northern franchise is one of the largest in the UK, currently providing more than 16,000 train services each week to a population of 15 million people.
Arriva's successful bid demonstrated its ability to provide innovative service improvements and value for money for customers. Arriva has drawn on its experience in the UK rail market where it already operates the award-winning CrossCountry, Chiltern Railways, Arriva Trains Wales, Grand Central and London Overground networks. Each is known for their innovation while Chiltern and Grand Central are rated as leaders in customer satisfaction.
Arriva will operate the franchise under a refreshed Northern brand and working closely with transport partners Rail North, will deliver the services to help support the Government's plans to revitalise the North's economy.
On 1 April 2016 over 5,500 Northern employees will join Arriva. They will share in Arriva's experience in providing train services in seven countries, coupled with a track record of innovation that will deliver a transformation in the travelling experience for customers.
Chris Burchell, Managing Director of Arriva's UK Trains division, said: "We are proud to be given the opportunity to transform rail travel for passengers in the North of England and to work closely with our partners to connect towns, cities and communities like never before.
"We will be investing more than £1billion to deliver a step-change in quality for customers and dramatically improving services, stations, information and ticketing.
"Our aim is to be the communities' local railway and to leave a positive lasting legacy for the North of England."
Transport Secretary Patrick McLoughlin said: "We promised passengers a world class rail service that would make the Northern Powerhouse a reality – and I'm delighted that we have found an operator that will deliver exactly that. As a one nation government we are committed to closing the economic gap between north and south. This deal will bring the Northern Powerhouse to life.
"In 2004, the last time the contract was awarded, the government did not plan for growth – today we've put that right.
"Arriva Rail North Ltd went far beyond our requirements with exciting, ambitious plans that will make a real difference to customers, and – coupled with our commitment to push ahead with electrifying the vital Transpennine route – will help the region realise its full economic potential, ensuring it has a modern 21st century transport system. This is fantastic news for the north."
Northern franchise highlights
New and refurbished trains: Through an investment of over £400m, Arriva will introduce 98 new trains (281 carriages) delivering extra capacity and with a top speed of 100mph, refurbish the remaining fleet and remove all Pacer trains by 2019. All trains will have improved connectivity with free WiFi by 2019.
More services and faster journeys: Across the Northern network, services will be faster with some local and long distance routes up to 20 per cent faster. This includes journeys from Nottingham to Leeds, from Carlisle to Newcastle, and from Sheffield to Lincoln.
Significant station improvements: Arriva will invest in station ticketing, including new retail facilities at 243 stations that don't currently offer such services. Customers will see refurbished seating and waiting areas at 355 stations, improved information, enhanced CCTV security, and staff will be provided at 45 currently unstaffed stations. Video help points will be introduced at 447 stations and customer information screens at more than 160 new locations.
Value for money and choice: Arriva will introduce more understandable fares and advance tickets that can be bought just 15 minutes before departure. New off-peak products will be introduced where they do not currently exist. This will encourage leisure journeys and help to reduce peak overcrowding.
Northern Connect: Northern Connect will be a new network of 12 long distance routes. Introduced in 2019 it will provide faster connections across Northern England to Leeds, Liverpool, Manchester, Newcastle and Sheffield, including brand new services from Bradford to Manchester Airport and Lincoln to Leeds. Northern Connect services will offer free WiFi, plug sockets, tables, air conditioning and seat reservations.
About Arriva
Arriva is one of the largest providers of passenger transport in Europe, employing more than 55,000 people and delivering more than 2.2 billion passenger journeys across 14 European countries each year.
We operate a wide range of services including local buses, inter-urban commuter coaches, local, regional and national train services, trams and light rail, waterbuses, demand response, non-emergency patient transport and airport related transport services.
Arriva is part of Deutsche Bahn (DB) and is responsible for DB's regional passenger transport services outside Germany.