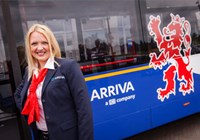 Arriva, a leading European transport provider, today released annual results showing growth of around 5% on the prior year, representing revenues in excess of €5bn. This revenue growth enabled Arriva to invest €359m in its businesses across the UK and Europe – 30% more than in 2015.
In the UK, Arriva increased its capital expenditure to €133m in 2016. The investment was focused on improving the customer experience, including new and improved buses and trains, station improvements and innovations such as mobile ticketing apps and the roll-out of contactless payments on buses.
Key highlights for the UK include the launch of the Northern rail franchise in April and since taking over the contract Arriva has begun investing in an extensive modernisation programme to deliver a step change for the 90 million passengers who use the network every year.
In addition, Arriva Rail London Ltd began operating the London Overground concession in November following a competitive bidding process and after 9 years of Arriva operating it as a joint venture.
The UK remains Arriva's biggest bus market with 5,250 vehicles. Despite a challenging market with increasing congestion, Arriva has invested significantly in technology and refreshed networks to improve the bus passenger experience. This includes our industry-leading app, Wi-Fi on new buses and improved ticketing and payments.
In mainland Europe, Arriva began to operate a number of new contracts, including a 15-year bus and rail contract in Limburg, the Netherlands – an innovative multi-modal contract designed to create a more integrated and seamless transport experience for passengers, with a commitment to introduce 226 new zero-emission buses and 36 trains by 2026. The Group also provided new train services in Prague, new bus services in Warsaw, and continued investing in key markets such as Italy and the Czech Republic, and developed long distance 'Arriva Express' bus lines across Europe.
Manfred Rudhart, chief executive of Arriva said:
"2016 was a year of continued market growth as a result of significant contract wins and acquisitions. We also increased our overall capex investment by 30%, from €276m in 2015 to €359m.
"The Northern franchise consolidated our position as a major operator in UK rail, while new franchises and acquisitions boosted our presence in Spain, the Netherlands, Italy and Czech Republic.
"Arriva continued its significant investment in customer service improvements, new technology and our people. We have rolled out contactless payment schemes across our markets, making bus and train travel more convenient; introduced more environmentally-friendly vehicles and continued to invest in our graduate and apprenticeship schemes."
About Arriva
Arriva is one of the largest providers of passenger transport in Europe, employing some 60,000 people and delivering more than 2.2 billion passenger journeys every year
Arriva is part of Deutsche Bahn, one of the world's leading passenger transport and logistics service providers. Headquartered in Sunderland, UK, Arriva is responsible for Deutsche Bahn's regional passenger transport services outside of Germany.
Arriva operates across 14 European markets: the Czech Republic; Croatia; Denmark; Hungary; Italy; the Netherlands; Poland; Portugal; Serbia; Slovakia; Slovenia, Spain; Sweden; and the UK.