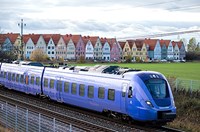 Arriva – a leading pan-European passenger transport company – announces that it has been awarded an eight-year contract to run the Pågatågen train services in Sweden until December 2026. The contract was awarded by the transport authority of the Skåne region following an open competitive tender. Arriva has run services on the system in Sweden's southernmost county since 2007 and had already secured a two-year extension on its franchise through to 2018 before its latest bid success.
Commenting on the contract win, Arriva Group CEO Manfred Rudhart said: "Mainland Europe is an important growth engine for Arriva and so to secure the new rail contract for Pågatågen against tough competition is a significant win for us. Over 21 million passenger journeys are made every year on this franchise connecting people to some of Sweden's major cities, including Malmö, Helsingborg, Lund, and Trelleborg. Under the new contract, passengers will benefit from new trains, a more connected service and better service information."
For the first time, Arriva will be responsible for fleet maintenance and for introducing new trains into service. The number of trains will also increase from 66 to 99 trains with more service connections. Alongside this Arriva is developing a new digital mobility portal - Arriva Tågportal – which will enable better coordination of services and improve passenger information. These improvements are expected to see passenger numbers rise significantly from 21.2 million (2015).
Arriva has been active in the Swedish bus market since 1999 and has been a rail transport provider since 2007 when it first started operating the Pågatåg rail contract. Arriva employs 3,900 employees in Sweden, and operates and manages 900 buses, 150 trains and 90 tram cars in the country. Under the E20 contract, Arriva serves 96 million passengers a year through combining bus and rail services into integrated multi-modal public transport networks – the largest of its kind in Sweden.
About Arriva
Arriva is one of the largest providers of passenger transport in Europe, employing more than 55,000 people and delivering more than 2.2 billion passenger journeys across 14 European countries each year.
We operate a wide range of services including local buses, inter-urban commuter coaches, local, regional and national train services, trams and light rail, waterbuses, demand response, non-emergency patient transport and airport related transport services.
Arriva is part of Deutsche Bahn (DB) and is responsible for DB's regional passenger transport services outside Germany.