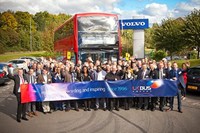 The shortlist announcement for the 2017 UK Bus Awards at the Museum of Transport, Greater Manchester this week has seen Arriva secure its most successful year to date, receiving an impressive 19 nominations across 14 keenly contested categories.
Now in its 22nd year the prestigious award scheme is designed to celebrate and promote excellence and best practice throughout the UK bus industry. This year, Arriva has been recognised both regionally and nationally across a breadth of people focused, operational and technical accolades, and will be hoping to walk away with a hoard of prizes from the glittering awards ceremony on Tuesday 21st November 2017 at Troxy in London.
Notable projects shortlisted this year include 'Get your ride on' – Arriva's fun-filled multi-channel marketing campaign aimed at promoting bus travel amongst university students, and ArrivaClick, an on-demand transport service being trialled in Sittingbourne, Kent, which uses smart technology to match vehicles and passengers wanting to rideshare – effectively bridging the gap between traditional bus travel and private taxi hire.
Kevin O'Connor, Managing Director for Arriva UK Bus, said: "The shortlist for this year's awards clearly positions Arriva as leaders in the industry both in terms of our technical expertise and our dedication to innovation, and ArrivaClick is a prime example of that.
"We have spent the past few years concentrating all our efforts in delivering an improved passenger journey, and the rapid growth achieved during ArrivaClick's initial trial proves that we are hitting the mark in creating innovative solutions fit for purpose in this ever evolving market.
"People are at the heart of this strategy, and we have been extremely careful to ensure that we are marrying the needs of our customer base with the talent and drive of a workforce determined to bring our vision to fruition. We're proud to have built a team who consistently strive to deliver on one common goal – providing excellence for our customers on a day to day basis. It is testament to them that not only have we had success in terms of innovation with ArrivaClick, but that we are consistently setting the benchmark in terms of community engagement, service provision, and operations across the industry."
Arriva has been shortlisted for the following awards:
Arriva London, Bus and the Community Award - Payroll Giving
Arriva London, Unsung Heroes - Chris Leonti
Arriva Merseyside, Top City Operator
Arriva Midlands, Engineer of the Year - Paul Hickinbottom
Arriva Midlands, Engineer of the Year - Peter Graybrook
Arriva Midlands, Top National Bus Driver - Sean Thomas
Arriva Midlands, Top National Bus Driver - Brett Haskett
Arriva Midlands, Making Buses a Better Choice - Arriva Busway Services
Arriva Midlands, Young Manager of the Year - Paul Hickinbottom
Arriva Midlands, Top National Bus Depot - Luton
Arriva Midlands, Top National Bus Depot - Shrewsbury
Arriva Midlands, Unsung Heroes - Lynne Nappin
Arriva Midlands, Unsung Heroes - Neil Roughton
Arriva Midlands (Luton Depot), Bus and the Community Award - Commitment to Luton
Arriva Midlands (Telford Depot),Bus and the Community Award - Dementia Awareness
Arriva North East, Engineer of the Year - Colin Close
Arriva North West & Wales, Top National Bus Driver - Neil Atherton
Arriva UK Bus, New Horizons - ArrivaClick
Arriva UK Bus, Marketing Initiative of the Year - Get your ride on
Mark Yexley, Chairman for the UK Bus Awards, said: "We have some truly inspirational people working in our industry, leading innovation and outstanding improvements in the customer experience. They show unrivalled commitment in delivering a first-class service day in, day out. We're very proud to be able to recognise and reward these people and initiatives that really make a difference.
Our Finalists' Announcement is a very special day for all those involved, it's been great to visit the North West, and what a great setting to be able to celebrate the people, projects and organisations that will shape the industry of the future."
About Arriva
Arriva is one of the largest providers of passenger transport in Europe, employing more than 55,000 people and delivering more than 2.2 billion passenger journeys across 14 European countries each year.
We operate a wide range of services including local buses, inter-urban commuter coaches, local, regional and national train services, trams and light rail, waterbuses, demand response, non-emergency patient transport and airport related transport services.
Arriva is part of Deutsche Bahn (DB) and is responsible for DB's regional passenger transport services outside Germany.