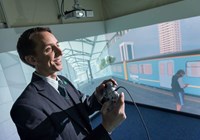 £100,000 investment in virtual reality technology in a bid to enhance platform safety
Used as part of staff training at St David's House, Cardiff
Strengthens Arriva's ongoing commitment to enhancing the customer experience
A first of its kind 'virtual reality cave' featuring an interactive rail platform and computer generated passengers is being used by Arriva Trains Wales to improve passenger safety across its network.
The train operating company has invested over £100,000 in the Platform-Train Interface virtual reality cave located in Arriva Trains Wales' driver training centre in St. David's House, Cardiff.
The software was developed by Telford-based Virtual Reality Simulation Systems, who specialise in using computer game technology to deliver safety and educational training for businesses.
The new simulator comprises a three-walled room called the CAVE, where projectors and screens create an immersive virtual train platform allowing the user to navigate around the virtual reality station using a wireless hand-held controller, to interact with customers, trains and objects as they go.
It contains a number of scenarios which will be used by conductors and station staff to recognise behaviours and identify potential risks and hazards to passengers and develop their situational awareness.
Gareth Thomas, Human Resources Director at Arriva Trains Wales said:
"In the last five years, 15 people have been killed in platform-train interface incidents across the UK and another 254 major have suffered major injuries."
"With such significant numbers of fatalities and incidents occurring as a result of this activity, we have a responsibility to ensure that the safety of our staff and customers is maintained and, where possible improved.
"The well-being of our passengers is vitally important to us and that is why we have invested heavily in developing the virtual reality cave. It will help train our staff to identify potential risks and hazards faster so we they can react quicker and reduce the number of accidents across our network.
"At Arriva Trains Wales we are committed to utilising new technology to improve our customer service offering and ensure our staff gain the necessary training to deal with any issues that may occur."
The virtual platform is just one way Arriva Trains Wales is using state-of-the-art technology to increase customer safety.
In 2008, Arriva Trains Wales invested £2 million into a driving simulator project consisting of four immersive which are used by the 650 drivers Arriva Trains Wales employs across its network. The simulators allow drivers to run through various scenarios and train procedures and practice their driving skills in a controlled and safe environment.
About Arriva
Arriva is one of the largest providers of passenger transport in Europe, employing more than 55,000 people and delivering more than 2.2 billion passenger journeys across 14 European countries each year.
We operate a wide range of services including local buses, inter-urban commuter coaches, local, regional and national train services, trams and light rail, waterbuses, demand response, non-emergency patient transport and airport related transport services.
Arriva is part of Deutsche Bahn (DB) and is responsible for DB's regional passenger transport services outside Germany.