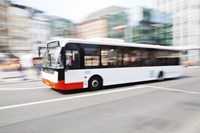 Ashok Leyland, flagship of the Hinduja Group, today confirmed that it bagged an order from KSRTC for 3019 buses. This order, one of the largest from a State Transport Undertaking for a single OEM, would be executed in the current financial year which would help Ashok Leyland in furthering its leadership position in buses. The order size is about Rs. 650 crores.
Speaking about the order, Mr. Vinod K. Dasari, Managing Director, Ashok Leyland, said, "We are very happy to receive the confirmation of this order from KSRTC. Our ability to bring value to customers like KSRTC, is a testament to our superior technology and innovation, combined with low costs."
Speaking on the win, Mr. T. Venkataraman, Senior Vice President, Global Buses, Ashok Leyland, said. "Our buses are durable, robust, and employ the latest in technology. The cost of ownership and the product experience which we can deliver is the best in the industry. Our in-depth understanding of what works for our markets and customers is what differentiates us and has helped us win this order from KSRTC."
This order will fulfil requirements from KSRTC, NWKRTC, BMTC and NEKRTC. The order includes 210" WB, fully built Karnataka Saarige Bus on 210' WB chassis, fully built Rajahamsa Bus on 222" WB, fully built non-AC sleeper coaches on 222" WB chassis and fully built Midi bus on 205" WB chassis.
About Ashok Leyland
Ashok Leyland is the 2nd largest manufacturer of commercial vehicles in India, the 4th largest manufacturer of buses in the world and the 16th largest manufacturer of trucks globally.
With a turnover in excess of US $ 2.3 billion (2012-13) and a footprint that extends across 50 countries, they are one of the most fully-integrated manufacturing companies this side of the globe.