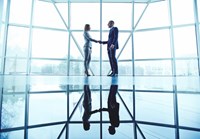 Aurizon's new Managing Director & CEO Andrew Harding commenced today.
The appointment was announced to the market on 2 September 2016, following a global recruitment search.
Mr Harding succeeds Lance Hockridge who retires from Aurizon later this month after nine years in the CEO role.
Until June this year Mr Harding had worked for more than twenty-four years at Rio Tinto, most recently as Chief Executive Iron Ore. Prior to his most recent role he held various executive management, operating and functional roles both domestically and globally across the Rio Tinto business.
"Aurizon has achieved good momentum to date with its transformation program. I am confident we can drive performance to the next level, creating further value for shareholders and our customers," Mr Harding said.
Mr Harding said retiring MD&CEO Lance Hockridge had made an outstanding contribution to the Company, especially in the six years as a publicly listed entity.
About Aurizon
Aurizon (ASX: AZJ) is Australia's largest rail freight operator and a top 50 ASX company.
Each year, the Company transports more than 250 million tonnes of Australian commodities, connecting miners, primary producers, and industry with international and domestic markets. It provides customers with integrated freight and logistics solutions across an extensive national rail and road network, traversing Australia.
The Company also owns and operates one of the world's largest coal rail networks, linking more than 50 mines with three major ports in Queensland.