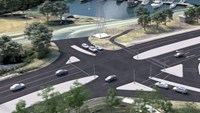 The tender for the construction of the $39.5 million Barneson Boulevard—a project that will create jobs, help revitalise Darwin's CBD and encourage private investment—was released today.
Federal Minister for Urban Infrastructure Paul Fletcher said the project would deliver a connection between Tiger Brennan Drive and the CBD, and would finalise the duplication of Tiger Brennan Drive between Dinah Beach Road and McMinn Street.
"The construction of the Barneson Boulevard and Tiger Brennan Drive Stage 3 project is expected to support approximately 80 jobs over the life of the project, and will also support further economic development in the Darwin CBD through improved road infrastructure," Mr Fletcher said.
"The new Barneson Boulevard is planning for Darwin's future, with the link ultimately reducing pressure on other CBD roads and providing commuters with another option to enter and exit the CBD."
Northern Territory Deputy Chief Minister and Minister for Infrastructure, Planning and Logistics Nicole Manison said all three tiers of government were working together to revitalise the capital of northern Australia and provide an entry all Territorians can be proud of.
"Barneson Boulevard will provide an attractive and modern entry to the city that showcases Darwin's tropical appeal and further promotes its potential as Australia's northern capital and gateway to Asia," Ms Manison said.
"Approximately 200 shade trees will be planted along Barneson Boulevard, creating a cool streetscape with excellent pedestrian and cyclist linkages into the CBD."
City of Darwin Mayor Kon Vatskalis said the design of Barneson Boulevard focused on incorporating an urban streetscape in line with the vision for the Darwin CBD revitalisation, and that community perspectives had been sought on landscaping and public art opportunities during the project's development.
"The project includes intersection upgrades and realignments, with sequenced traffic signals to optimise traffic flow, wide footpaths and segregated cycle ways, and will incorporate urban landscaping and opportunities for roadside amenities such as alfresco dining in the future, re-energising the entire precinct," Cr Vatskalis said.
The tender will be open for a 10-week period and will close in February 2018. Two industry briefings will be held and a number of addendums will be released to confirm a number of design aspects. The Australian Government has committed $29.5 million to the Barneson Boulevard and Tiger Brennan Drive Stage 3 project, with the Northern Territory Government and City of Darwin each committing a further $5 million.