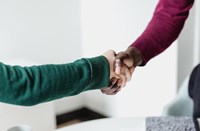 Stefan Wild wins the € 3,000 award for dissertation on cooling concepts for electromechanical drives.
On the occasion of the spring reception of the railway industry on 4 April, the industry's innovation prize was awarded for outstanding research work for the first time. Dr. Stefan Wild received the award worth € 3,000 for his dissertation in the field of electrical engineering entitled "Optimization of the cooling concepts of air-cooled, encapsulated and thermally highly stressed traction asynchronous machines in the conflict of objectives of electromagnetic and thermal design".
A high-caliber jury of well-known experts had decided in favor of his work. "For me, the Innovation Award proves the railway industry's self-image that it can only succeed with technologically superior quality products," says Wild, who works as a calculation engineer for the rail supplier Traktionssysteme Austria.
Innovation World Champion Railway Industry
The innovation prize was initiated to publicly acknowledge the industry's considerable research and development activities. "With 41 rail-related patents per million inhabitants and research and development spending of 6% percent of sales, the Austrian railway industry is already the most innovative in the world," says Manfred Reisner, President of the Railway Industry Association. Nevertheless, he does not want to rest on it. "Even though R & D spending is twice as high as the EU average, we need to further expand our innovation lead in order to remain competitive," says Reisner.
Key Factor Specialists
The key to this are highly qualified top executives such as prizewinner Stefan Wild, who are, however, also lacking in this sector. "We therefore want to reward top research with the Innovation Award and inspire more young people for railway technology," says Angela Berger, Managing Director of the Railway Industry Association. Nachsatz: "We are a high-tech industry like the aerospace industry with excellent job prospects for talented technicians."
About

The Austrian Association of the Railway Industry
The Austrian Association of the Railway Industry (in German language named "Verband der Bahnindustrie") represents the interests of the Austrian Rail Supply Industry, it was founded in October, 2005.
Rail is an efficient mode of transport with great future potential.
The Austrian Association of the Railway Industry is a nonpartisan association serving the interests of the rail industry in Austria.