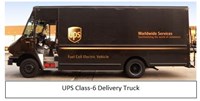 Ballard Power Systems (NASDAQ: BLDP; TSX: BLDP) today announced that it will provide fuel cell modules to power four (4) UPS delivery trucks as part of a project being managed by the Center for Transportation and the Environment (CTE) and partially funded by the California Air Resources Board (CARB). CARB has announced a preliminary funding award of $5.8 million through its ZANZEFF (Zero and Near Zero Emissions Freight Facilities) grant program, which is focused on accelerating the adoption of clean freight technologies and reducing air pollution caused by the movement of goods throughout the state of California.
The Next Generation Fuel Cell Delivery Van Deployment Project will develop, validate, and deploy four Class-6 fuel cell electric hybrid delivery trucks with a view toward commercialization of the technology. Linamar Corporation will be the primary systems integrator of the vehicle, utilizing its existing hybrid powertrain configuration with a next generation eAxle. Ballard will provide fuel cell modules for primary propulsion of each truck. The completed trucks will be operated in parcel delivery service by UPS out of its Customer Center in Ontario, California.
Rob Campbell, Ballard's Chief Commercial Officer said, "We are delighted to work with CTE and Linamar in the deployment of these fuel cell-powered UPS trucks. We are confident in the dependability and durability of our fuel cell power solution, while also offering the required range and overall performance for this application. And, we see rapid hydrogen refueling as a better alternative approach than long battery recharging times."
Jason Hanlin, CTE's Director of Technology Development added, "Thanks to the California Air Resources Board for supporting CTE and our partners in providing clean trucks for the folks moving people, packages, and goods every day. We are also happy to continue our relationship with Ballard in successfully deploying fuel cell vehicles that deliver on application requirements."
Current battery-powered Class-6 UPS delivery trucks have a range limit that makes them suitable for only a percentage of routes, and often not for the majority of routes in any delivery area. This percentage can be further reduced if the delivery locations face unexpected heavier loads, hilly terrain or colder temperatures. As a result, for several months Ballard has been involved in the development of a UPS truck using a 30kW FCveloCity®-MD fuel cell module as a range extender, thereby addressing these limitations by boosting drive range and providing certainty of completing daily delivery missions while maintaining zero-emission performance.
The project announced today with CTE will test performance of UPS delivery trucks using larger fuel cell modules to provide primary vehicle propulsion. Ballard expects to ship these modules in 2019, with operation of the UPS vans planned to begin in 2020.
About Ballard Power Systems

Ballard Power Systems (NASDAQ: BLDP; TSX: BLDP) provides clean energy products that reduce customer costs and risks, and helps customers solve difficult technical and business challenges in their fuel cell programs.