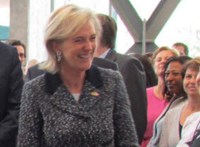 Ballard Power Systems hosted Her Royal Highness Princess Astrid of Belgium, Representative of His Majesty the King leading a trade mission to Canada, at the Company's headquarter facility in Burnaby, British Columbia.
The 228-person trade mission, which includes federal cabinet ministers and senior representatives from each of Belgium's three regional governments, is focused on creating a closer working relationship between Canada and Belgium. The Princess's visit to Ballard recognizes the Company's close working relationship with Belgian bus manufacturer Van Hool NV in building and deploying clean energy fuel cell-powered buses for mass transit in Europe.
Randy MacEwen, Ballard's President and CEO added, "We are delighted that Her Royal Highness Princess Astrid was able to visit and meet with us, as a signal of the importance Belgium is putting on our work in Europe. Furthermore, the upcoming introduction of FCvelocity®-HD7 power modules in new configurations, including 30, 60 and 200 kilowatt power levels, will expand the addressable market in Europe and elsewhere around the globe, enabling zero-emission technology to be used in powering transit buses of various sizes."
Van Hool is Europe's fourth largest bus OEM and has been a Ballard partner for the past 6 years. To date the two companies have worked together in building and deploying 28 clean energy fuel cell-powered buses with transit agencies in 5 European cities. In addition, plans are now being fulfilled for the deployment of a further 21 fuel cell buses by 2017. Van Hool and Ballard are keen to address the Fuel Cells and Hydrogen Joint Undertaking's aim of deploying more than 300 fuel cell buses in Europe by 2020.
Filip Van Hool, CEO of Van Hool NV said, "Our leadership position in the fuel cell transit bus market in Europe is an example of how strong partnerships with global players such as Ballard can contribute to a successful transition to clear energy solutions, while creating economic growth and jobs".
In 2014 the two companies also established ESPACE, a joint European Service and Parts Centre
co-located with Van Hool's Lier, Belgium manufacturing facility. ESPACE supports all Van Hool fuel cell buses in Europe that are powered by Ballard fuel cell modules.
About Ballard Power Systems
Ballard Power Systems (NASDAQ: BLDP; TSX: BLD) provides clean energy products that reduce customer costs and risks, and helps customers solve difficult technical and business challenges in their fuel cell programs. To learn more about Ballard, please visit www.ballard.com.