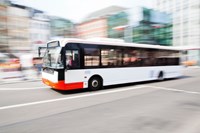 Ballard Power Systems (NASDAQ: BLDP; TSX: BLD) today announced that it is currently developing, and plans to launch, two new configurations of its FCvelocity®-HD7 fuel cell module in 2016. The two new module configurations will expand Ballard's product portfolio and provide customers with increased flexibility to address a range of emerging power needs in heavy-duty transit applications, such as buses. The Company is in advanced discussions for initial orders.
Ballard's latest-generation FCvelocity®-HD7 was launched in a 90 kilowatt (kW) net power configuration in June 2015 at the UITP World Congress and Exhibition in Milan, Italy. This initial configuration will typically be used to power large urban transit buses. The two new product configurations announced today will deliver net power of 30kW and 60kW, respectively, and are expected to be launched for commercial deployments in 2016 to power smaller buses and provide range extension solutions.
"At Ballard, we have a customer-centric business model," said Randy MacEwen, President and CEO. "In parallel to seeing increased market demand and customer engagement for fuel cell buses in China, the USA and Europe, we are also seeing heightened customer interest in hybridization and range extension solutions. As a result, we are leveraging our leading fuel cell module designs and unmatched field experience with plans to launch 30 kilowatt and 60 kilowatt fuel cell engines to complement our current 90 kilowatt module. This will enable us to provide customers with a portfolio of offerings that meet all heavy duty motive power needs and extend our lead in this exciting market."
Ballard's high performance FCvelocity®-HD modules have demonstrated exceptional reliability while clocking millions of kilometers on the road, principally in bus fleets. FCvelocity®-HD7, Ballard's seventh-generation heavy duty module, offers a number of key advantages:

• Performance – The FCvelocity®-HD7 heavy duty zero-emission fuel cell power module offers superior performance based on Ballard's proprietary fuel cell stack technology, demonstrating unmatched fuel efficiency, durability and flexibility to operate in extreme conditions that include cold as well as hot, humid environments.
• Integration – A simplified and scalable design enables the module to be integrated into multiple transportation applications and the modular design of the air and cooling systems allow flexible and simple "drop-in" integration into vehicle drive trains.
• Cost Reduction – The new FCvelocity®-HD7 power module features a reduced parts count, simplified design and lower parasitic load. Key components are manufactured with high-volume production processes, thereby reducing capital cost of the module and maintenance costs associated with parts replacement over the life of the product. Ballard's HD7 represents a cost reduction of more than 30% from the prior generation HD6 product and a cost reduction of approximately 65% in this product line over the past six years.
• Leadership – The FCvelocity®-HD7 reflects Ballard's unmatched experience in the field, including: more than 20-years' supporting transit applications; production of more than 150 modules through seven generations of product; working with ten different system integrators and OEMs to power more than 100 buses in 20 cities worldwide; powering fuel cell buses over more than 7.5 million kilometers (4.7 million miles) and transporting more than 10 million passengers in revenue service.
Further discussion of Ballard's activities and plans in the heavy-duty motive power market will take place during the Company's Investor and Analyst Day, scheduled to be held on October 1, 2015 in New York City. Institutional investors wishing to attend are asked to register as soon as possible, as space is limited, by emailing Ballard at analystday@ballard.com. Ballard's Investor and Analyst Day will also be webcast, with the live audio stream and presentation materials accessible through a link on Ballard's homepage at www.ballard.com. Following the event, the webcast and presentation materials will be archived in the Investors section of Ballard's website at www.ballard.com/investors.
About Ballard Power Systems
Ballard Power Systems (NASDAQ: BLDP; TSX: BLD) provides clean energy products that reduce customer costs and risks, and helps customers solve difficult technical and business challenges in their fuel cell programs. To learn more about Ballard, please visit www.ballard.com.
This release contains forward-looking statements concerning market demand for our products, product attributes, anticipated customer benefits and market drivers for our products. These forward-looking statements reflect Ballard's current expectations as contemplated under section 27A of the Securities Act of 1933, as amended, and Section 21E of the Securities Exchange Act of 1934, as amended. Any such forward-looking statements are based on Ballard's assumptions relating to its financial forecasts and expectations regarding its product development efforts, manufacturing capacity, and market demand.
These statements involve risks and uncertainties that may cause Ballard's actual results to be materially different, including risks related to our ability to develop and commercialize our products, risk of market acceptance of our products, general economic and regulatory changes, detrimental reliance on third parties, successfully achieving our business plans and achieving and sustaining profitability. For a detailed discussion of these and other risk factors that could affect Ballard's future performance, please refer to Ballard's most recent Annual Information Form. Readers should not place undue reliance on Ballard's forward-looking statements and Ballard assumes no obligation to update or release any revisions to these forward looking statements, other than as required under applicable legislation.
This press release does not constitute an offer to sell or the solicitation of an offer to buy securities. The Ballard Common Shares have not been registered under the United States Securities Act of 1933, as amended, or the securities laws of any other jurisdiction and may not be offered or sold in the United States absent registration or an applicable exemption from registration requirements.