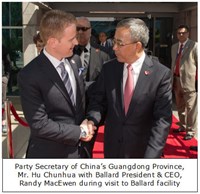 Ballard Power Systems (NASDAQ: BLDP; TSX: BLD) hosted the Party Secretary of China's Guangdong Province, Mr. Hu Chunhua and his delegation, together with the Honorable Teresa Wat, B.C. Minister of International Trade and Minister Responsible for the Asia Pacific Strategy and Multiculturalism and other dignitaries at the company's headquarters facility.

This is Mr. Hu Chunhua's first ever visit to Canada and the first by any Guangdong Province Party Secretary in more than 50-years. All guests, along with Ballard executives, met to discuss international trade opportunities and to take part in a fuel cell-powered transit bus demonstration.

Randy MacEwen, Ballard's President and CEO said, "It is an honor to have Guangdong Province Party Secretary Mr. Hu Chunhua, his delegation and Canadian government dignitaries visit our corporate offices during Mr. Hu's ground-breaking trip to Canada. The decision to spend time at Ballard is a strong indication of the importance Guangdong Province places on fuel cell technology. Earlier today, we also signed a non-binding letter of intent for the potential transfer of fuel cell technology and the manufacture of fuel cell products in Guangdong Province. These events demonstrate that our corporate growth strategy in the China market is gaining traction."

The Hon. Teresa Wat added, "B.C. is continually working to expand and diversify its trade relationship with key markets in Asia, and our relationship with Guangdong is one of our strongest. We have trade and investment experts on the ground in Guangdong who played a key role in bringing this delegation to B.C. and facilitating these business-to-business deals. As China moves towards a low carbon economy, fuel cells are an excellent example of the new opportunities available to both Provinces in the trade of clean technology."

The delegation from the People's Government of Guangdong Province of China is in Vancouver to attend the "China (Guangdong) – Canada (British Columbia) Economic and Trade Cooperation Conference", hosted today by British Columbia Premier Christy Clark at the Vancouver Convention Centre. The Conference is aimed at strengthening the socio-cultural and economic ties between China and Canada.

Guangdong Province – the most populace province in China with more than 100 million people – includes the cities of Guangzhou and Shenzhen and accounts for more than 25% of China's foreign trade. Guangdong Province is investing in clean energy mass transit solutions to help address the environmental objectives of China's 13th 5-Year Plan, including improved air quality.
About Ballard Power Systems
Ballard Power Systems (NASDAQ: BLDP; TSX: BLD) provides clean energy products that reduce customer costs and risks, and helps customers solve difficult technical and business challenges in their fuel cell programs. To learn more about Ballard, please visit www.ballard.com.