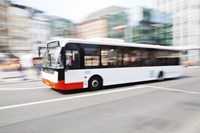 Ballard Power Systems (NASDAQ: BLDP; TSX: BLDP) today announced the Company's membership in the "Fuel Cell Electric Bus Commercialization Consortium" (FCEBCC), a large-scale project for which funding has now been committed to support deployment of 20 zero-emission hydrogen fuel cell electric buses at two California transit agencies. Ten (10) buses are to be deployed with Alameda Contra-Costa Transit District (AC Transit) and 10 buses are to be deployed with the Orange County Transportation Authority (OCTA).
The FCEBCC project is funded and sponsored by: the California Air Resources Board (CARB) through the California Climate Investments program; the Bay Area Air Quality Management District (BAAQMD); and the South Coast Air Quality Management District (SCAQMD). The Center for Transportation and Environment (CTE), a non-profit member-based organization, is providing project management and oversight.
Ballard will be providing 20 of its FCveloCity®-HD 85-kilowatt fuel cell engines to New Flyer of America Inc., a subsidiary of New Flyer Industries Inc. ("New Flyer"), the largest transit bus and motor coach manufacturer and parts distributor in North America. Ballard's engines will power New Flyer 40-foot Xcelsior XHE40 fuel cell buses, which are planned to be delivered and in-service with AC Transit and OCTA by the end of 2018. The buses are to be supported by advanced hydrogen fueling infrastructure provided by The Linde Group.
Karim Kassam, Ballard's Vice President – Commercial said, "This program represents an important next step in the broader adoption of fuel cell buses in the U.S. market. The consortium's work will result in the largest deployment of fuel cell buses to this point in the United States. Ballard looks forward to supporting AC Transit and OCTA in their use of clean energy fuel cell buses to help reduce dependence on petroleum and to reduce pollution and greenhouse gas emissions in California."
The New Flyer Xcelsior buses, powered by Ballard engines, have a range of approximately 500 kilometers (over 300 miles), can be refueled in less than 10-minutes without the need for overnight plug-in battery recharging, can replace conventional buses without compromising operational performance, and generate zero tailpipe emissions.
Ballard has powered buses for over a cumulative 10 million kilometers (6.2 million miles) in revenue service – more than any other fuel cell company – and New Flyer has been very active in the North American fuel cell electric bus market. These efforts have contributed to improving the durability and reliability of these buses while demonstrating fuel economy 1.4x higher than diesel buses and 1.9x higher than CNG buses.
This Fuel Cell Electric Bus Commercialization Consortium is part of California Climate Investments, a statewide program that puts billions of cap-and-trade dollars to work reducing greenhouse gas emissions, strengthening the economy and improving public health and the environment—particularly in disadvantaged communities. The cap-and-trade program also creates a financial incentive for industries to invest in clean technologies and develop innovative ways to reduce pollution. California Climate Investment projects include affordable housing, renewable energy, public transportation, zero-emission vehicles, environmental restoration, more sustainable agriculture, recycling and much more. At least 35 percent of these investments are made in disadvantaged and low-income communities.
About Ballard Power Systems
Ballard Power Systems provides clean energy products that reduce customer costs and risks, and helps customers solve difficult technical and business challenges in their fuel cell programs.