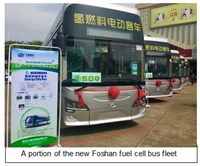 Ballard Power Systems (NASDAQ: BLDP; TSX: BLD) today announced the commissioning and deployment of 10 fuel cell-powered buses in the City of Yunfu, in the Province of Guangdong, China. The unveiling took place at a ceremony held at the Foshan (Yunfu) Industrial Transfer Park, Sinao Town, Yunfu City in Guangdong Province. The ceremony was attended by Mayor of Yunfu, Mr. Wang Sheng, and Vice-Mayor of Yunfu, Mr. Xu Guo.
Today's announcement follows last month's commissioning and deployment of an initial 12 fuel cell-powered buses in the District of Sanshui, in the City of Foshan. This brings the total number of buses deployed since the initial tranche to 22, as part of the Chinese Government's plan to address air quality in urban centers through zero tailpipe emission mass transit solutions. As Ballard announced in a September 2015 press release, 300 fuel cell buses are currently planned to be deployed in the Cities of Foshan and Yunfu.
The new fuel cell buses in the City of Yunfu are 11 meters in length and feature advanced safety systems, 80 person capacity, anticipated driving range in excess of 300 kilometers, expected hydrogen gas consumption of less than 6.5 kilograms per 100 kilometers, zero tailpipe emissions and remote monitoring. Unlike many battery electric bus routes, the transit route in Yunfu will not require any catenary wires or on-route recharging.
Randy MacEwen, Ballard's President & CEO said, "Congratulations to the City of Yunfu and the Province of Guangdong on the successful launch of the second tranche of clean energy fuel cell buses. This deployment of 10 buses in Yunfu comes rapidly on the heels of the 12-bus deployment in Foshan last month. Together these are the largest deployments of zero-emission fuel cell buses in China's history, but represent just the beginning of market adoption. Ballard has unmatched global experience providing fuel cell engines for transit buses. With our strong local partners, we are well positioned to address this large, fast-growing and dynamic market opportunity in China."
About Ballard Power Systems
Ballard Power Systems (NASDAQ: BLDP; TSX: BLD) provides clean energy products that reduce customer costs and risks, and helps customers solve difficult technical and business challenges in their fuel cell programs. To learn more about Ballard, please visit www.ballard.com.