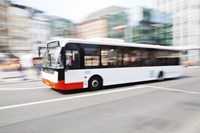 Ballard Power Systems (NASDAQ: BLDP; TSX: BLD) today announced the signing of a purchase order from Shenzhen UpPower Technology Co., Ltd. ("UpPowerTech"), a leading fuel cell bus systems integrator in China, for the supply of 10 FCveloCity®-MD 30-kilowatt fuel cell power modules to be integrated by UpPowerTech into clean energy buses manufactured by Gaungxi Yuanzheng New Energy Co. Ltd. ("Yuanzheng"), a Chinese bus manufacturer, for deployment in the City of Nanning in the Province of Guangxi.
As reported in a June 20, 2016 Ballard Market Update, UpPowerTech previously demonstrated a hydrogen fuel cell bus, using Ballard's new FCveloCity®-MD 30-kilowatt fuel cell power module as a battery range extender, during the "4th Shenzhen International Low Carbon City Forum". The bus was a 12-meter (40-foot) city bus with a powertrain built by UpPowerTech and powered by an FCveloCity®-MD 30-kilowatt fuel cell. The coach was manufactured by Xiamen King Long United Automotive Industry Co., Ltd. The Forum, held in Longgang District of Guangdong Province, featured low carbon urban development and innovation technologies designed to tackle global environmental challenges.
Ballard, UpPowerTech, Yuanzheng and the Ministry of Industry and Information Technology of Nanning – the capital city of Guangxi Province in southern China, with an urban area population in excess of 4 million people – recently signed a Memorandum of Understanding to develop the fuel cell bus market in the City of Nanning and the Province of Guangxi. The collaboration contemplates the use of Ballard's leading fuel cell technology, UpPowerTech's systems integration expertise, and the support of the Government of Nanning for future production localization plans and the build-out of hydrogen refueling infrastructure.
Alfred Wong, Ballard's Director for Asia-Pacific said, "We continue to see a growing commitment in China for the deployment of zero emission mass transit solutions using fuel cell technology. We are pleased to partner with UpPowerTech on the first fuel cell bus deployments in Guangxi Province."
Mr. Ling Zhaowei, Chairman of UpPowerTech said, "After a careful review of available fuel cell engines, we have selected Ballard as our fuel cell technology partner moving forward. In addition to providing reliable fuel cell products, Ballard has impressed us with its outstanding on-the-ground support here in China. Today, there is no other fuel cell company that has made the in-country commitment to integration engineering, parts inventory and after-sales support. This provides us with significant additional comfort."
The 10 FCveloCity®-MD 30-kilowatt fuel cell power modules are expected to be delivered in 2016, and the fuel cell buses are expected to be deployed in 2017.
About Ballard Power Systems
Ballard Power Systems (NASDAQ: BLDP; TSX: BLD) provides clean energy products that reduce customer costs and risks, and helps customers solve difficult technical and business challenges in their fuel cell programs.