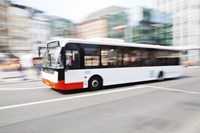 Ballard Power Systems (NASDAQ: BLDP; TSX: BLD) today announced the signing of definitive agreements in Foshan, China with Guangdong Nation Synergy Hydrogen Power Technology Co. Ltd. ("Synergy") for the establishment of an FCvelocity®-9SSL fuel cell stack production operation in the City of Yunfu, in Guangdong Province. The fuel cell stacks will be packaged into locally-assembled fuel cell engines and integrated into zero-emission buses and commercial vehicles in China.
Subject to closing, the transaction has a contemplated minimum value to Ballard of $168 million over 5-years and includes these key elements:
Ballard will receive $18.4 million in Technology Solutions revenue for technology transfer services, production equipment specification and procurement services, training and commissioning support in relation to the establishment of a production line in Yunfu for the manufacture and assembly of FCvelocity®-9SSL fuel cell stacks, with most of this revenue expected to be recognized in 2017;
On closing of the transaction, expected in late-2016, a joint venture will be created to undertake the stack manufacturing operations and will be owned 90% by Synergy and 10% by Ballard; and

On commissioning of the operation, expected in 2017, Ballard will be the exclusive supplier of membrane electrode assemblies (MEAs) for each fuel cell stack manufactured by the joint venture, with minimum annual MEA volume commitments on a "take or pay" basis totaling in excess of $150 million over the initial 5-year term from 2017 to 2021.
A signing ceremony was attended today by Mr. Zhu Wei, Mayor of Foshan, Mr. Wang Sheng, Mayor of Yunfu, Mr. Xu Guo, Vice Mayor of Foshan/Yunfu, and Ms. Rachael Bedlington, Canada's Consul General to Guangzhou. The transaction represents significant progress for Ballard's China strategy over the past 18-months, accelerated by an historic meeting and key talks at Ballard's headquarters in Vancouver on May 9th this year with the visit of Mr. Hu Chunhua, Party Secretary of Guangdong Province.
"There is unprecedented market interest for fuel cell buses and commercial vehicles in China – the largest market in the world," said Randy MacEwen, Ballard's President and CEO. "With our leading brand, technology and field experience, Ballard is uniquely positioned to address the market for fuel cell buses and commercial vehicles with our partners in China."
Regarding Ballard's strategy in China, Mr. MacEwen commented, "Our China strategy and business model is simple – we engage strong Chinese partners to localize fuel cell production in China to reduce costs, drive scale, mitigate market risk, avoid capital investment, and protect our core intellectual property."
Mr. MacEwen continued, "We expect this transaction to deliver a number of high-value benefits to Ballard, including attractive near-term and long-term deal economics and cash flows, positive market reception, risk mitigation, scaling of MEA production with guaranteed volumes, and capital efficiency. In addition, Ballard is not exposed to any compromise of our core intellectual property since we will maintain production of all MEAs at our headquarter facility."
Under the terms of the joint venture, Ballard will contribute RMB 20 million (approximately $3.0 million) for its 10% joint venture interest, appoint one of the three joint venture board directors, have veto rights over certain key joint venture decisions, agree on the marketing strategy and will have no further obligation to provide future funding to the joint venture.
After commissioning of the operation, the joint venture will have an exclusive right to manufacture and sell FCvelocity®-9SSL stacks in China. Exclusivity will be subject to certain performance criteria of the joint venture, including compliance with a code of ethics, compliance with Ballard's quality policies, compliance with Ballard's branding policies, achievement of the minimum annual "take or pay" MEA volumes, compliance with payment terms, and compliance with certain intellectual property covenants. Ballard will have the exclusive right to purchase fuel cell stacks and sub-components from the joint venture for sale outside China.
Mr. Frank Ma, Chairman of Guangdong Nation Synergy Hydrogen Power Technology Co. Ltd. said, "Ballard is the preeminent fuel cell brand for buses and commercial vehicles in China. This deal is transformational in terms of positioning fuel cells as a compelling solution for clean energy buses and commercial vehicles in China's high-population cities where air quality is a top priority. By localizing stack and module production, we will drive costs down to enable sustainable market demand for fuel cell buses and commercial vehicles based on economics, zero emissions and passenger experience."
Mr. Xu Guo, Vice Mayor of the City of Foshan/Yunfu added, "This joint venture between Synergy and Ballard is consistent with the Foshan-Yunfu strategy to promote localization of fuel cell production, accelerate cost reduction and address the rapidly growing demand for zero-emission transportation in China."
Alfred Wong, Ballard's Director, Asia Pacific, stated, "China has been at the forefront in the adoption of battery electric buses and other vehicles. The market is now looking at fuel cell technology to address and complement the limitations of battery electric solutions, which include limited range, long recharge times, the need for enroute recharging infrastructure and limited operating route flexibility. We are excited to see the growing engagement by many leading Chinese manufacturers of buses and commercial vehicles."
The transaction is scheduled to close in 2016, subject to customary closing conditions including required regulatory approvals.
About Ballard Power Systems
Ballard Power Systems (NASDAQ: BLDP; TSX: BLD) provides clean energy products that reduce customer costs and risks, and helps customers solve difficult technical and business challenges in their fuel cell programs.