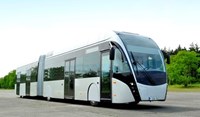 Ballard Power Systems (NASDAQ: BLDP; TSX: BLDP) today announced that the company has accepted a Letter of Intent to provide FCveloCity®-HD 100-kilowatt fuel cell engines to power 8 ExquiCity tram-buses being built by Van Hool NV, a Ballard partner in Europe, for delivery in Pau, France to the SMTU-PPP (Syndicat Mixte de Transports urbains – Pau Portes des Pyrénées) and the STAP (Société de Transport de l'Agglomération Paloise) during the second half of 2019.
These will be the first hydrogen bus routes in France and the world's first hydrogen tram-buses for a full BRT (Bus Rapid Transit) system. These clean energy hybrid tram-buses will use fuel cells for primary power and lithium batteries for additional power when needed, with the only emission being water vapour. Each tram-bus is over 18 meters long (over 60 feet), has capacity for 125 passengers and can operate more than 300 kilometers (185 miles) between hydrogen refueling, which take just 10 minutes to complete.
In addition to its environmental benefits, hybrid fuel cell tram-buses offer a number of important advantages, including: the highest level of operational flexibility and productivity; high levels of passenger comfort and safety; lower cost than a traditional tram.
Rob Campbell, Ballard Chief Commercial Officer said, "This Letter of Intent from Van Hool to use our Heavy Duty power module in its tram-buses for deployment in Pau, France is a further testament to our strong partnership and Van Hool's confidence in Ballard's fuel cell technology and products. We are excited to see continued market expansion of fuel cell-powered mass transit vehicles in Europe, as typified by this tram-bus project. This is a further sign of the growing importance of zero-emission fuel cell solutions globally."
Filip Van Hool, CEO of Van Hool, said, "Van Hool is looking forward to applying its experience in the field of hydrogen-powered vehicles to the new tram-bus system in Pau. This is a challenge we are extremely happy to take on in our factory at Koningshookt. We have the necessary experience and confidence to make this project a success, leveraging our long-standing partnership with Ballard and its market-leading fuel cell products."
Van Hool is an independent Belgian bus, coach and industrial vehicle manufacturer. Founded in 1947 and based in Koningshooikt, the company has approximately 4,000 employees, with the majority of its production destined for European and American markets.
The tram-bus deployment in Pau is funded by Europe's FCH JU programs. ENGIE's subsidiary GNVERT will construct and operate the hydrogen refueling stations for the buses. The 8 ExquiCity tram-buses are scheduled to be delivered to the project in the second half of 2019. Ballard expects to firm up contract and delivery details prior to the end of 2017.
About Ballard Power Systems
Ballard Power Systems (NASDAQ: BLDP; TSX: BLD) provides clean energy products that reduce customer costs and risks, and helps customers solve difficult technical and business challenges in power and energy. To learn more about Ballard, please visit www.ballard.com.